August 13,2012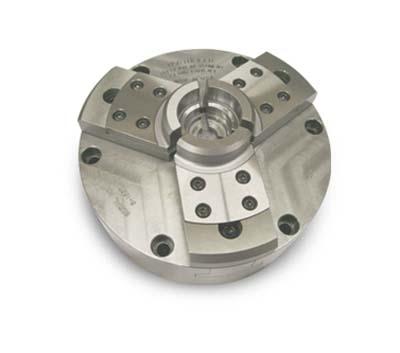 Northfield Precision Instrument Corp. introduces its Model NF-800 standard sliding jaw chuck. As seen in the photo, this particular top tooling was custom designed and manufactured for a customer.
The top tooling included a set of hardened and ground subjaws and two sets of inserts. The subjaws were designed to accept these inserts, making the chuck capable of holding multiple parts and allowing for a quick change-over from one part to the next. The subjaws were ground in place to allow for increased accuracy and repeatability (better than 0.0001" T.I.R.).
Related Glossary Terms
chuck


chuck

Workholding device that affixes to a mill, lathe or drill-press spindle. It holds a tool or workpiece by one end, allowing it to be rotated. May also be fitted to the machine table to hold a workpiece. Two or more adjustable jaws actually hold the tool or part. May be actuated manually, pneumatically, hydraulically or electrically. See collet.