July 13, 2013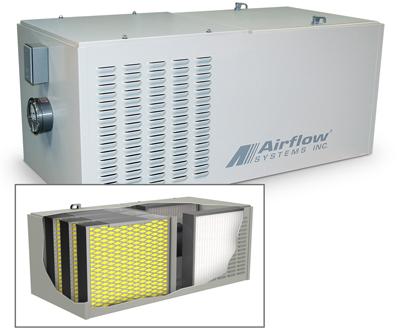 Designed specifically for oil mist, smoke, and fume collection, the Airflow Systems Inc.'s Model MPH10 mist collection and filtration system provides MERV 14 filtration efficiency. The MPH10 mist collector produces up to 1,000 CFM of air flow in industrial applications, including: machining and metalworking.
The MPH10 features a low-profile cabinet design, which simplifies installation and makes the MPH10 suitable for virtually any facility or equipment configuration. The MPH10 utilizes the Airflow Systems Ultra-seal filter placement system, which eliminates contaminant bypass of filters; reducing equipment and facility maintenance and enabling quick and accurate filter replacement. The MPH10 has a 10-inch bottom inlet and a 2-inch deep sump, for high-volume, 24-hour, 7-day operation with no manual handling of liquid.
The MPH10 has an energy-efficient, direct-drive blower motor that provides superior air flow, and high static pressure operation without belts or pulleys to replace. Even with a powerful 1.0 HP motor blower, the acoustic-lined cabinet of the MPH10 maintains a 77.5 dBA noise level; resulting in improved protection for personnel against workplace noise.
The Airflow Systems Model MPH10 mist collection and filtration system features the Airflow Systems MistPlus II filter, which enables the MPH10 to achieve higher filtration efficiency, while reducing filter replacement frequency. The MistPlus II filter has a V-shaped design that is specifically formed to aid in the drainage of collected oil mist; reducing dirt loading and lowering maintenance costs.
The Airflow Systems Model MPH10 is constructed of a 16/18 gauge, zinc-coated, welded steel cabinet with a powder-coated finish. Available for the MPH10 is a 99.97 percent efficient HEPA after filter for very high efficiency collection and filtration applications. The MPH10 is available with an optional .50 HP motor blower.
Related Glossary Terms
metalworking


metalworking

Any manufacturing process in which metal is processed or machined such that the workpiece is given a new shape. Broadly defined, the term includes processes such as design and layout, heat-treating, material handling and inspection.