September 25, 2018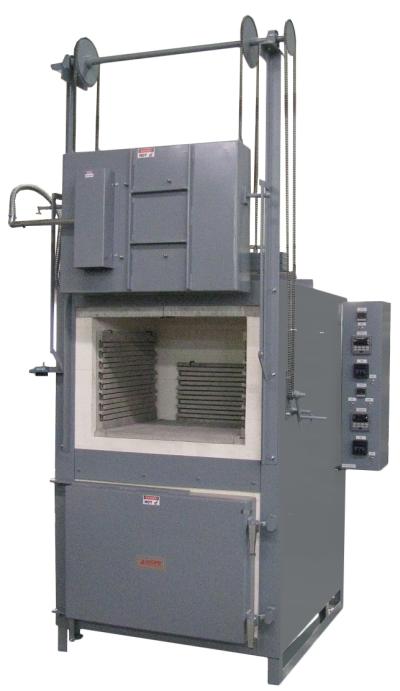 Lucifer Furnaces delivered a large dual chamber unit to a metal stamping manufacturer in the Midwest. Model HL82-P24 is a hardening furnace over tempering oven, built as a space saving combination for multipurpose heat treating.
The upper hardening chamber heats to 2,300° F with 6.5" multilayer insulation throughout the chamber. Heat is supplied through heavy gauge, coil wound wire elements in easy-to-replace holders on sides, back and door of the furnace. The vertical lift, hand-crank operated door provides for smooth operation with a tight seal.
A heavy-duty ceramic hearth plate protects floor elements and insulation. The lower chamber tempering oven heats to a uniform 1,200° F with a rear-mounted, high-cfm fan circulating air past the side mounted heating elements. A 16-gauge stainless steel liner forms the work chamber.
Both chambers are controlled with digital time proportioning temperature controllers with timers and alarms. Safety features on this unit include high limit controllers on each chamber which provide auto shut-down in the event of a high temp excursion. Door switches are designed to shut off power and fan, protecting users from electric shock as well as heat hazards. Both chambers are 18" high x 24" wide x 24" long.
Related Glossary Terms
hardening


hardening

Process of increasing the surface hardness of a part. It is accomplished by heating a piece of steel to a temperature within or above its critical range and then cooling (or quenching) it rapidly. In any heat-treatment operation, the rate of heating is important. Heat flows from the exterior to the interior of steel at a definite rate. If the steel is heated too quickly, the outside becomes hotter than the inside and the desired uniform structure cannot be obtained. If a piece is irregular in shape, a slow heating rate is essential to prevent warping and cracking. The heavier the section, the longer the heating time must be to achieve uniform results. Even after the correct temperature has been reached, the piece should be held at the temperature for a sufficient period of time to permit its thickest section to attain a uniform temperature. See workhardening.

tempering


tempering

1. In heat-treatment, reheating hardened steel or hardened cast iron to a given temperature below the eutectoid temperature to decrease hardness and increase toughness. The process also is sometimes applied to normalized steel. 2. In nonferrous alloys and in some ferrous alloys (steels that cannot be hardened by heat-treatment), the hardness and strength produced by mechanical or thermal treatment, or both, and characterized by a certain structure, mechanical properties or reduction in area during cold working.