January 01, 2011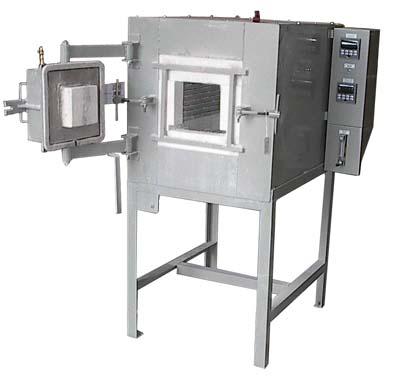 Lucifer Furnaces Inc. has supplied a leading ISO 9001 certified analytical testing facility in the Midwest with a model 7000 AM box furnace for stress relieving. The 7" x 7" x 18" chamber is powered with 8 KW and heats to 2050° F.
The heavy gauge reinforced steel shell is insulated with 6 ½" of multilayered insulating firebrick and mineral wool block for energy efficiency. Easy to replace radiant panels on both side walls and floor provide heat to the work load which is insulated from the elements by a RA330 alloy muffle supporting an argon atmosphere. The muffle design reduces scale, achieves lower dew points and reduces atmosphere consumption.
A silicon carbide heath plate supports the muffled work chamber while allowing thermal transfer from the floor heating elements. An insulated double pivot horizontal swing door, Honeywell digital programmable temperature controller, flow meter and over temperature safety system are all built in to this atmosphere muffle furnace.
Related Glossary Terms
stress relieving


stress relieving

Annealing designed to relieve internal stresses caused by machining, welding, casting, cold working, quenching or normalizing.