October 01,2011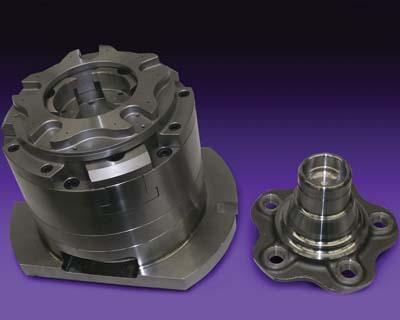 Northfield Precision Instrument Corp. introduced the Model 700 air chuck. This 7-in. diameter, 3-jaw air chuck has special jaws that grip a short diameter of the automotive "hub" shown to drill and chamfer the 5 holes. A special stop mounted to the chuck face has "air detect" holes for part seating confirmation. The stop is contoured and relieved to allow a chamfering tool to break the edge on the banking surface of the work piece.
Related Glossary Terms
chamfering


chamfering

Machining a bevel on a workpiece or tool; improves a tool's entrance into the cut.

chamfering tool


chamfering tool

Cutter or wheel that creates a beveled edge on a tool or workpiece.

chuck


chuck

Workholding device that affixes to a mill, lathe or drill-press spindle. It holds a tool or workpiece by one end, allowing it to be rotated. May also be fitted to the machine table to hold a workpiece. Two or more adjustable jaws actually hold the tool or part. May be actuated manually, pneumatically, hydraulically or electrically. See collet.