October 13,2013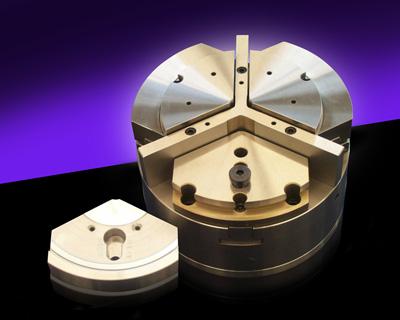 Northfield Precision Instrument Corp. introduces the Model 650 Sliding Jaw air chuck. This air chuck, with 0.0001" TIR, has special quick-change jaws and a hard stop.
This particular custom-made chuck was made for a customer who manufactures output gears and needed to grip on the interior diameter. Subjaws are permanently mounted to the chuck's master jaws. Quick-Change top jaws are held in place by one bolt through a keyhole slot in each jaw pad.
Related Glossary Terms
chuck


chuck

Workholding device that affixes to a mill, lathe or drill-press spindle. It holds a tool or workpiece by one end, allowing it to be rotated. May also be fitted to the machine table to hold a workpiece. Two or more adjustable jaws actually hold the tool or part. May be actuated manually, pneumatically, hydraulically or electrically. See collet.

total indicator runout ( TIR)


total indicator runout ( TIR)

Combined variations of all dimensions of a workpiece, measured with an indicator, determined by rotating the part 360°.