June 23,2016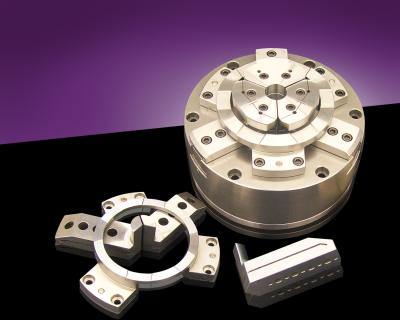 Northfield Precision Instrument Corp. introduces its customized Model 650 chuck. This chuck has been engineered using one chuck and two sets of flexing jaws.
The jaws shown on the chuck have been hardened and ground as well as strategically wire cut to allow them to flex to compensate for out-of-round parts. The hardened and ground stop shown locates the part axially. The second set of jaws and stop are used to grip a small bore (.750 dia.) and "pull" the part onto the hard stop, insuring that the part is properly seated. Slots are filled with rubber to keep chips out.
Related Glossary Terms
chuck


chuck

Workholding device that affixes to a mill, lathe or drill-press spindle. It holds a tool or workpiece by one end, allowing it to be rotated. May also be fitted to the machine table to hold a workpiece. Two or more adjustable jaws actually hold the tool or part. May be actuated manually, pneumatically, hydraulically or electrically. See collet.