June 01,2015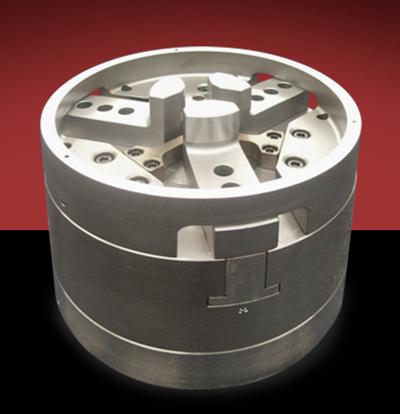 Northfield Precision Instrument Corp. specializes in developing custom solutions for difficult problems. In this case, the customer needed grip on the IDs of CVT transmission sheaves for runout inspection. To this end, Northfield developed the Model 625 sliding-jaw air chuck (0.0001" TIR) with special top tooling attached.
Top jaws are permanently mounted onto the chuck's master jaws to grip the ID of the part's central bore. An air-detect axial locator (three air holes evident in its top surface) was incorporated to ensure proper seating of the part upon robot-arm placement onto the chuck. This chuck is capable of .0001" TIR total accuracy/repeatability on all critical surfaces that interface with the part.
Related Glossary Terms
chuck


chuck

Workholding device that affixes to a mill, lathe or drill-press spindle. It holds a tool or workpiece by one end, allowing it to be rotated. May also be fitted to the machine table to hold a workpiece. Two or more adjustable jaws actually hold the tool or part. May be actuated manually, pneumatically, hydraulically or electrically. See collet.

inner diameter ( ID)


inner diameter ( ID)

Dimension that defines the inside diameter of a cavity or hole. See OD, outer diameter.

total indicator runout ( TIR)


total indicator runout ( TIR)

Combined variations of all dimensions of a workpiece, measured with an indicator, determined by rotating the part 360°.