May 18,2016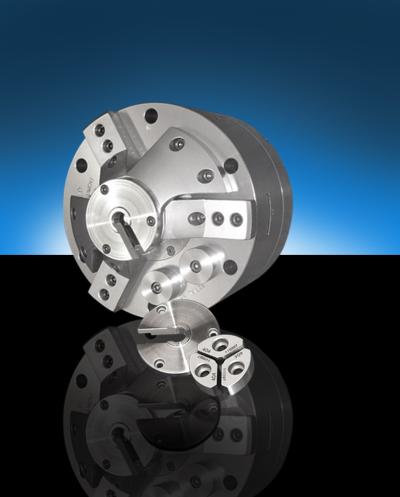 Northfield Precision Instrument Corp. introduces its new Model 620 chuck. This 6"-dia. 3-jaw chuck has a 1"-dia. counterbore (hidden), with special sub-jaws, inserts and side loading base stop and stop pad. Due to the part geometry, it had to be side loaded between the jaws and needed to rest on the small boss at the end of the slot. Two weights were added to balance the chuck. Changeable insert stop pads repeat to 0.0001" TIR when removed and reinstalled.
Related Glossary Terms
chuck


chuck

Workholding device that affixes to a mill, lathe or drill-press spindle. It holds a tool or workpiece by one end, allowing it to be rotated. May also be fitted to the machine table to hold a workpiece. Two or more adjustable jaws actually hold the tool or part. May be actuated manually, pneumatically, hydraulically or electrically. See collet.

counterbore


counterbore

Tool, guided by a pilot, that expands a hole to a certain depth.

total indicator runout ( TIR)


total indicator runout ( TIR)

Combined variations of all dimensions of a workpiece, measured with an indicator, determined by rotating the part 360°.