July 01,2011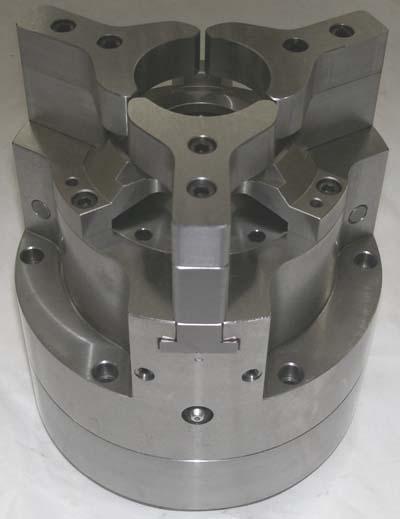 Northfield Precision Instrument Corp. has introduced its special Model 6100 3-jaw air chuck. With 0.0005 T.I.R., this chuck has a 6.42 inch diameter with a 1 inch jaw stroke (0.500" per jaw). The chuck was designed with special jaws to grip the customer's sprocket.
This chuck requires special jaw blanks different from the Northfield standard 6 inch series. The adapter plate will also be different than a standard Northfield 6 inch chuck. The air tube, rotary union, operating valve and regulator are the same as all other Northfield chucks.
Related Glossary Terms
chuck


chuck

Workholding device that affixes to a mill, lathe or drill-press spindle. It holds a tool or workpiece by one end, allowing it to be rotated. May also be fitted to the machine table to hold a workpiece. Two or more adjustable jaws actually hold the tool or part. May be actuated manually, pneumatically, hydraulically or electrically. See collet.