July 01,2010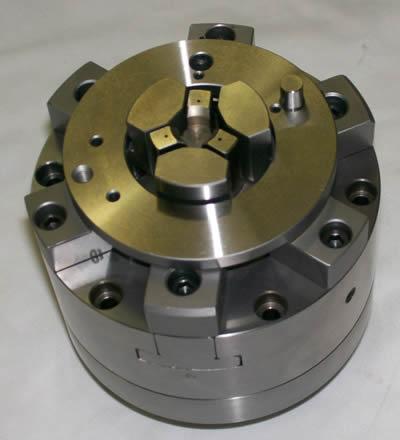 Northfield Precision Instrument Corp. introduces its Model 450WHF chuck. It uses a special four-port air tube and a special piston to allow for open/close/autolube/air-detect functions. The top plate (with pin) is a radial banking surface (side of pin only), which picks up the side of the customer's part when it is loaded and twisted into position into the chuck. The three small pads with tiny holes in the center of the chuck are used to rest the part against the tops of the pads while the holes are used for the air-detect function.
Related Glossary Terms
chuck


chuck

Workholding device that affixes to a mill, lathe or drill-press spindle. It holds a tool or workpiece by one end, allowing it to be rotated. May also be fitted to the machine table to hold a workpiece. Two or more adjustable jaws actually hold the tool or part. May be actuated manually, pneumatically, hydraulically or electrically. See collet.