March 12,2012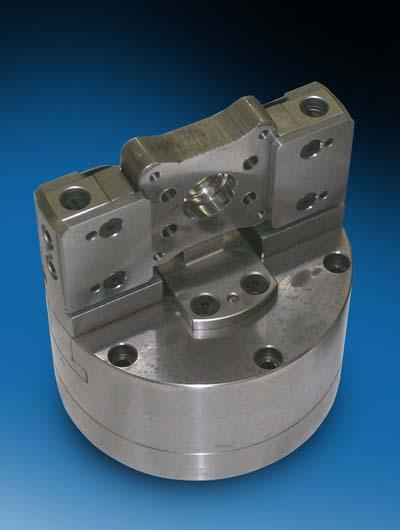 Northfield Precision Instrument Corp. retooled their Model 450 chuck for Caterpillar. The part (shown being gripped in the chuck) is a "Wheel Poppet Adapter." This chuck has special serrated insert pads to securely grip the part during the operation where they are drilling the holes on the side of the part. The chuck is mounted on an indexing head to expose the side of the part for drilling.
The plates attached to the sides of the jaws are used as a datum for drilling; one plate flexes to push the part, so that it maintains positive contact against the solid plate on the opposite side. In addition, the chuck also has an axial locator mounted in the center with line contact so as not to influence the grip of the part, but acts as a secondary datum.
Related Glossary Terms
chuck


chuck

Workholding device that affixes to a mill, lathe or drill-press spindle. It holds a tool or workpiece by one end, allowing it to be rotated. May also be fitted to the machine table to hold a workpiece. Two or more adjustable jaws actually hold the tool or part. May be actuated manually, pneumatically, hydraulically or electrically. See collet.