September 13,2012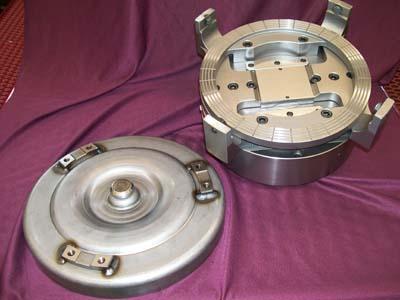 Northfield Precision Instrument Corp. introduces its Model 1070-250W Air Chuck. The 1070-250W is a 2-jaw chuck with a special quarter inch opening on diameter (1⁄8" opening per jaw). This chuck is modified for Spring Clamp and air open, using Nitrogen compressed gas springs in the spring clamp mechanism. The operators chose this modification so if they lose air pressure to their machines, the parts won't fly out and damage the operator or machine.
The chuck grips the part (a cover for a torque converter) on 4 points with special carbide-coated grippers. The chuck opens at less than 50 psi and grips the part at a constant 35 psi. The Jaws are special hardened and ground 1018 steel with a Rockwell C hardness of 58-63 (range from 58 to 63). The chuck also contains a full-circle part stop for axial location. The stop is also hardened and ground with the same hardness as the jaws.
Related Glossary Terms
chuck


chuck

Workholding device that affixes to a mill, lathe or drill-press spindle. It holds a tool or workpiece by one end, allowing it to be rotated. May also be fitted to the machine table to hold a workpiece. Two or more adjustable jaws actually hold the tool or part. May be actuated manually, pneumatically, hydraulically or electrically. See collet.

hardness


hardness

Hardness is a measure of the resistance of a material to surface indentation or abrasion. There is no absolute scale for hardness. In order to express hardness quantitatively, each type of test has its own scale, which defines hardness. Indentation hardness obtained through static methods is measured by Brinell, Rockwell, Vickers and Knoop tests. Hardness without indentation is measured by a dynamic method, known as the Scleroscope test.