September 13,2013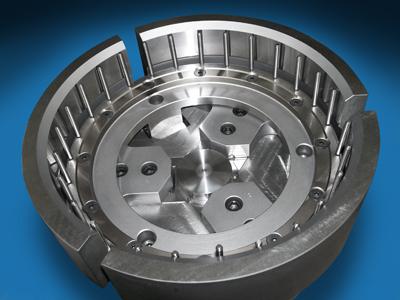 Northfield Precision Instrument Corp. introduces the Model 1025 air chuck. This chuck is used to grip on the pitch diameter of a large ring gear.
A pin cage with integral axial locator is mounted to the chuck face as a subassembly. When accomplished, the jaws push the pins inward to grip the gear's pitch diameter.
Related Glossary Terms
chuck


chuck

Workholding device that affixes to a mill, lathe or drill-press spindle. It holds a tool or workpiece by one end, allowing it to be rotated. May also be fitted to the machine table to hold a workpiece. Two or more adjustable jaws actually hold the tool or part. May be actuated manually, pneumatically, hydraulically or electrically. See collet.

pitch


pitch

1. On a saw blade, the number of teeth per inch. 2. In threading, the number of threads per inch.