January 31, 2020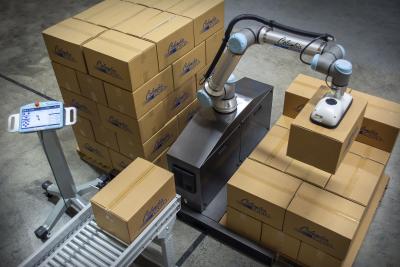 Universal Robots' OEM partner Columbia/Okura's new miniPAL is a mobile palletizer product that can be powered by the UR10e cobot arm. The flexible miniPAL with a footprint of 11'x13' can palletize at two pallet locations for optimized operation.
The latest design includes two safety mats and two area scanners that detect when people enter the work envelope, allowing the system to meet even higher speeds when not in collaborative mode. The system plugs into 110V AC wall power, can be set up in less than a day, and delivers an average payback between eight to 10 months, depending on application and industry.
"The partnership between Columbia/Okura and UR allows the two companies to provide a safe and economical palletizing solution to clients who are facing labor shortages, many of whom may also be new to factory automation," says Brian Hutton, president of Columbia/Okura LLC. "With the introduction of a collaborative palletizer, employees can be reassigned to work on higher value, less strenuous tasks where their time and skills are better served."
Related Glossary Terms
work envelope


work envelope

Cube, sphere, cylinder or other physical space within which the cutting tool is capable of reaching.