September 13, 2013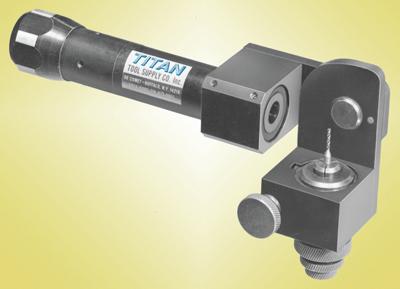 A new $495 Micro Drill Analyzing Microscope from Titan Tool Supply Inc. inspects the geometry, finish and accuracy of new and resharpened miniature carbide drills as small as 1⁄8" in diameter. Ideal for inspecting the quality of drills used in micromanufacturing and microelectronics, it provides a single-purpose, low-cost alternative to optical comparators and toolmakers microscopes, which entail a significant amount of setup time, according to the company.
Titan Tool's Model MDGA features a 30X magnification lens with a special reticle, two-position viewing, and 360-degree rotation of the drill in a precision collets holder to allow for complete inspection without refocusing or other adjustments. A travel rack and pinion brings the drill into focus.
The new Model MDGA analyzer from Titan Tool enables the user to inspect:
Point Centrality
Hook
Back Taper
Point Angle
Primary Relief Angle
Secondary Relief Angle
Web Taper and Web Thickness
Chisel Edge Angle
Lip Height
Cutting Drill Edge Irregularities and Drill Irregularities
Drill Point Finish
Body-to-Shank Concentricity
The new Titan Micro Drill Geometry Analyzer was designed so that two different views in two different planes of the drill can be inspected without changing setup. View one inspects the side of the drill, capturing all angles and most other adjustments. View two inspects the end of the drill to capture width, thicknesses, flare and other factors. The two different views are obtained by rotating the drill holding fixture 90 degrees on its own axis.
The new inspection tool measures 9-½" x 1-½" x 2" and weighs 1-lb., 6-oz. It is equipped with two 4mm-dia. Allen head screws for mounting the microscope in a bracket holder, if desired. Shank drills smaller than 1⁄8" in diameter can be inspected if a spacer (not provided) is used.