March 01, 2011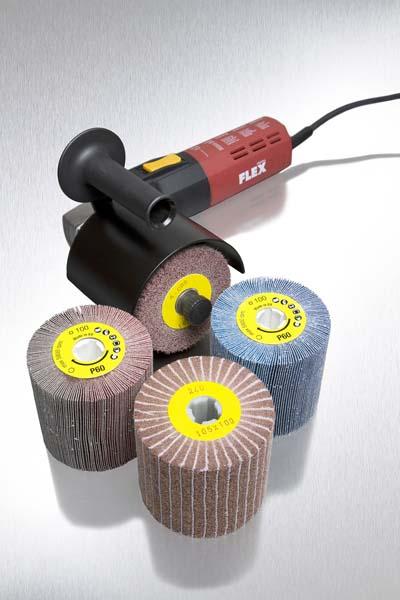 CGW-Camel Grinding Wheels has introduced a metal surface drum sander and flap wheel drum line for large scale metal finishing. Made with electronic controls, a soft start feature and a variable speed dial, the flap drum sander is engineered to not bog down while making shadow-free finishes. The new sander also has an overload protection feature and high-speed capacity for longer working life. The sander weighs 7.9 pounds, provides 4 inches of working tool width and features an 11-amp input and 700-watt output.
The new flap wheel drum line consists of four types of 4-inch by 4-inch drums with keyhole arbors. The four drums are coated aluminum oxide drums, zirconia aluminum oxide drums, interleaf and non-woven drums. Available in 40- through 120-grit sizes, the new coated flap wheel drums work coolly on a variety of metals including steel, ferrous, and stainless steels.
The interleaf flap wheel drums are made from alternating flaps of non-woven and aluminum oxide materials for uniform finishes. Interleaf flap wheel drums are available in 40- to 240-grit sizes and are paired with medium-grade, non-woven material. The new non-woven flap wheel drums are made from non-woven material impregnated with aluminum oxide grain and are available in coarse through very fine grits.
Related Glossary Terms
aluminum oxide


aluminum oxide

Aluminum oxide, also known as corundum, is used in grinding wheels. The chemical formula is Al2O3. Aluminum oxide is the base for ceramics, which are used in cutting tools for high-speed machining with light chip removal. Aluminum oxide is widely used as coating material applied to carbide substrates by chemical vapor deposition. Coated carbide inserts with Al2O3 layers withstand high cutting speeds, as well as abrasive and crater wear.

grinding


grinding

Machining operation in which material is removed from the workpiece by a powered abrasive wheel, stone, belt, paste, sheet, compound, slurry, etc. Takes various forms: surface grinding (creates flat and/or squared surfaces); cylindrical grinding (for external cylindrical and tapered shapes, fillets, undercuts, etc.); centerless grinding; chamfering; thread and form grinding; tool and cutter grinding; offhand grinding; lapping and polishing (grinding with extremely fine grits to create ultrasmooth surfaces); honing; and disc grinding.

stainless steels


stainless steels

Stainless steels possess high strength, heat resistance, excellent workability and erosion resistance. Four general classes have been developed to cover a range of mechanical and physical properties for particular applications. The four classes are: the austenitic types of the chromium-nickel-manganese 200 series and the chromium-nickel 300 series; the martensitic types of the chromium, hardenable 400 series; the chromium, nonhardenable 400-series ferritic types; and the precipitation-hardening type of chromium-nickel alloys with additional elements that are hardenable by solution treating and aging.