December 27, 2018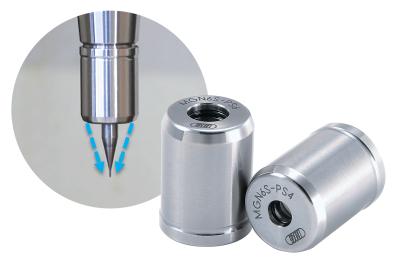 BIG KAISER announces the MEGA Micro Coolant Nut, a developed solution to provide precise coolant supply to micro cutting tools applications at high speeds.
Achieving efficient coolant delivery has become an important feature to have across the industry. Without precision coolant, chip jamming may be a problem, causing machine stoppages, service call outs, increased tool wear and poor surface finish. As spindle speeds continue to increase though, getting the coolant to the cutting tip has become more challenging.
Exclusively for MEGA Micro Chuck 6S, the MEGA Micro Coolant Nut is an ideal design for high-speed micromachining up to 6mm in diameter. By using it instead of a standard nut, tool lifetime is increased by about 35 percent and better cutting performance is achieved for milling applications.
The MEGA Micro Coolant Nut is a continuation of BIG KAISER's efforts to drive coolant towards the cutting edge and help to maintain process security. For coolant-through drills, BIG KAISER offers the MEGA Micro Perfect Seal Nut.