September 11, 2020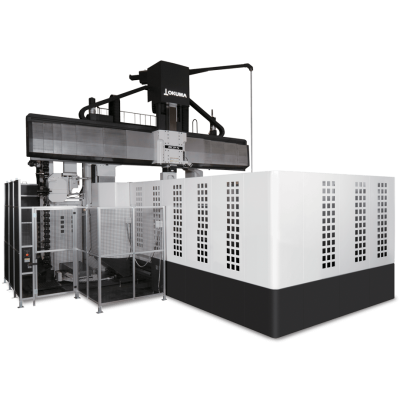 Okuma America Corporation, a world-leading manufacturer of CNC machine tools, announces the debut of the new MCR-S double column machining center (DCMC). Okuma's MCR-S roughs and finishes press dies in one setup and is designed for heavy duty machining of process-intensive press dies. It features full 5-face and 5-axis machining and is excellent for die repair work.
The MCR-S accommodates a wide range of stamping die requirements making it an ideal fit for the automotive and aerospace industries. It can easily handle hardened cast iron, nonferrous and exotic materials.
Maximum productivity and accuracy are achieved through various intelligent technologies and innovations, including:
The MCR-S one setup process achieves a 25 percent reduction in cycle time compared to similar models by utilizing faster cutting feed rates and spindle speeds, and eliminating the process-intensive steps of manually finishing a die.
Okuma's Thermo-Friendly technology reduces heat in the machining process and compensates for any ambient temperature changes, allowing for continuous long runs of cutting without comprising accuracy.
Okuma's Hyper-Surface feature detects and automatically compensates surface disturbances in the part program to eliminate streaks or stripes for a high-quality surface finish.
Innovative die-alignment processing reduces concave/convex die-alignment times.
Related Glossary Terms
computer numerical control ( CNC)


computer numerical control ( CNC)

Microprocessor-based controller dedicated to a machine tool that permits the creation or modification of parts. Programmed numerical control activates the machine's servos and spindle drives and controls the various machining operations. See DNC, direct numerical control; NC, numerical control.

feed


feed

Rate of change of position of the tool as a whole, relative to the workpiece while cutting.

machining center


machining center

CNC machine tool capable of drilling, reaming, tapping, milling and boring. Normally comes with an automatic toolchanger. See automatic toolchanger.