March 16, 2021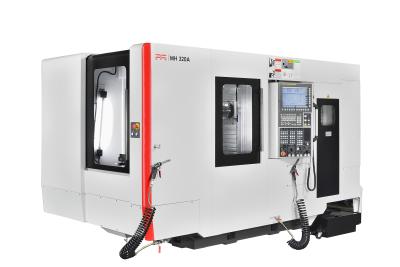 Methods Machine Tools, Inc., the foremost supplier of high- quality machine tools in North America, recently released the MB 650U Automatic Manufacturing Package (MB 650U AMP).
The MB 650U AMP blends the precision and speed of Methods' five-axis MB 650U and the convenience of the six-pallet Indunorm automatic pallet changer (APC). The result is a versatile, high- precision machine capable of unattended, lights-out operation.
"Methods created the MB 650U AMP to provide a simple solution for anyone looking to add automation to their shop," said Nicholas St. Cyr, Methods Machining Center Product Manager. "The integrated package provides the perfect mixture of accuracy, speed, and automation on day one."
The APC measures just 82.68" by 82.68"/2,100 millimeters (mm) by 2,100 mm. The compact APC gives the MB 650U AMP the ability to complete multiple workpieces without the need for additional automation. The work envelope spans 19.7"/500 mm in diameter and 19.7 "/500 mm in height, with a weight of 425 pounds/192 kilograms, allowing users to handle workpieces of various sizes and weights with ease. The confluence of the APC and the 48-tool automatic tool changer (ATC) reduces setup and changeover times.
Accuracy is still at the core of the bridge-type machining center. Features include 21 hand-scraped surfaces, a BLUM spindle probe, and laser tool probe with kinematic calibration capabilities, enabling precise, quick workpiece measurements. All five axes have Heidenhain scales, giving users the capacity to obtain more accurate measurements.
Users can take on challenging applications thanks to the BIG-PLUS 40 taper direct-drive, 15,000 RPM spindle with 25 horsepower, while the thermal compensation components ensure absolute stability.
The MB 650U AMP is a part of the Methods Machining Center product line. Developed by Methods utilizing decades of machining experience and manufactured by Litz Hitech Corp., each machine is backed by Methods' industry-leading service and support. All Methods Machining Centers are engineered to precise standards, inspected to meet strict quality and design specifications, and comply with ISO/ASME standards. Additionally, the product line is the only brand of machining centers manufactured by a Taiwanese company with FANUC controls.