August 09, 2016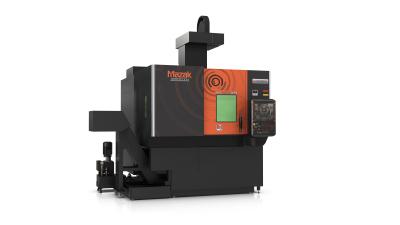 The new Mazak VC-500 AM hybrid multitask machine combines full 5-axis capability and additive technology to enhance product design, reduce time to market and cut R&D costs. Reportedly ideal for manufacturers that require optimal part finish and high accuracy, the VC-500 AM machine builds part features to near net shape up to 10 times faster than other comparable systems quickly and easily without wasting expensive material and losing time by subtracting large amounts of metal from a solid material using normal multitasking machining technology.
Constructed on a simple, compact 5-axis platform, the new VC-500 AM is very cost effective and accommodates a wide range of part sizes and shapes, making it well-suited for educational institutions and R&D facilities as well.
The VC-500 AM can machine parts up to 19.7" in diameter, 12" in height and up to 440 lbs. The additive cladding head can work in the same machining area, depending on the application and location of the features of the part.
The new VC-500 AM offers users geometric freedom vis a vis direct metal deposition, which allows for both additive and subtractive machining capabilities in a single setup. The laser cladding heads of the new Mazak VC-500 AM reside side-by-side with the subtractive machining spindle.
During operation, the VC-500 AM uses fiber laser heat to melt the chosen metal powder that will be used to the grow near-net-shape 3D forms. The cladding head applies the molten material layer by layer, all of which solidify as the desired part surface or features grows. The laser cladding head can also be used to coat chosen sections of the part with metal, allowing the machine to repair worn or damaged high-value components.