September 28, 2021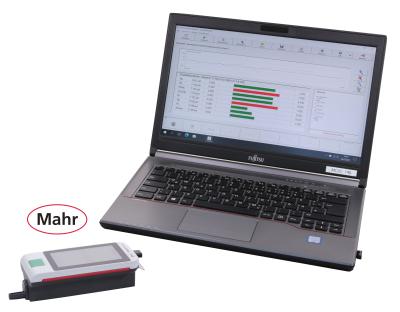 Mahr Inc., a global manufacturer of precision measurement equipment used for dimensional metrology, today announced that its MarSurf M 310 mobile surface measurement system is now available with an integrated connection to MarWin Easy Roughness Mobile software. This functionality allows the M 310 to be used as a drive unit for the MarWin Easy Roughness Mobile software, enabling another way to interface and control the M 310 while providing the complete functionality of the touchscreen unit on a PC. Direct connection to the PC is available via USB cable or Bluetooth adapter, replacing interface boxes that previously would have been required, and cutting implementation costs by half.
The portable M 310 unit brings features that were previously only available in PC-based systems. It features a large, illuminated, rotatable 4.3" high-resolution touchscreen. M 310 was designed to provide high-precision measurements to measure surface roughness on both small and large workpieces. It offers the ability to automatically create measuring reports in PDF format, to print those reports to letter-sized paper via Bluetooth or USB, and optional integration of a barcode or data matrix scanner. An optional portable printer is also available.
The MarWin Roughness Viewer is a simple no-cost software program for viewing the measured profiles. Evaluation (filtering and calculation of characteristic values) is still performed in the MarSurf M 310. The MarWin Roughness Viewer enables the creation of reports from as many as 100 profile files; easy configuration of the reports; the ability to save reports as PDF files; and to edit profile information for reporting.
With the MarWin Easy Roughness Mobile software integration, users can fully operate the M 310, change filter settings, calculate additional parameters, etc., as opposed to just viewing the stored measurements. It allows the M 310 to replace what in the past would have been a stand-alone PC-based instrument.
The newest firmware version of the MarSurf M 310 also includes a QR/barcode/data matrix code scanner function that allows a standard USB/Bluetooth scanner to be connected to the MarSurf M 310. This is a convenient function for entries that would otherwise have to be made via alphanumeric input on the touchscreen. For example, it is now possible to scan a QR/barcode on a workpiece to start the correct program associated with that part, or to read workpiece information (drawing number, etc.) into the profile information, and more.
"With the new MarWin Easy Roughness software integration, the MarSurf M 310 is the easiest, most powerful, and least expensive mobile surface roughness measurement tool available," said Pat Nugent, Vice President Product Management of Mahr Inc. "It is as simple as plugging it in via a USB cable or pairing with Bluetooth, with no additional adapter hardware required."
Related Glossary Terms
metrology


metrology

Science of measurement; the principles on which precision machining, quality control and inspection are based. See precision machining, measurement.

precision machining ( precision measurement)


precision machining ( precision measurement)

Machining and measuring to exacting standards. Four basic considerations are: dimensions, or geometrical characteristics such as lengths, angles and diameters of which the sizes are numerically specified; limits, or the maximum and minimum sizes permissible for a specified dimension; tolerances, or the total permissible variations in size; and allowances, or the prescribed differences in dimensions between mating parts.