November 24, 2021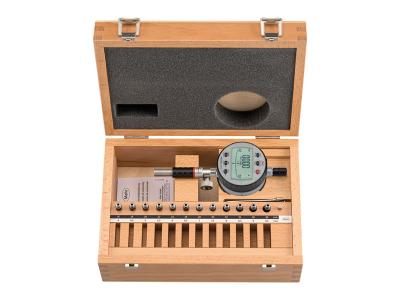 Mahr Inc., a global manufacturer of precision measurement equipment used for dimensional metrology, is launching a new, updated version of its Marameter 844 K family of inside diameter measuring probes. This system is used to make comparative measurements of very small bores ranging from 1mm to 20mm. When multiple diameters are measured in the bore, the probes can identify form errors such as ovality and taper.
Mahr has invested in a meticulous overhaul of the tried-and-true Marameter 844 K variable plug measuring system, developing new materials, processes and options to ensure maximum performance, linearity and accuracy. Because of their constant measuring force to sensitive contacts, the 844 K plugs are self-centering and reduce operator influence. Diameters are determined by zeroing the plug gage with a setting master and then measuring the bore by sweeping the plug through it. The reversal point, or minimum value recorded, provides the bore diameter. Despite the new design and improvement, the new probes and accessories are compatible and interchangeable with the previous generation of Marameter 844 K probes and accessories.
The new Marameter 844 K probes form a comprehensive modular system that includes measuring heads, driving needles, measuring holders for indicators or probes, depth extensions, right-angle attachments and setting rings. Made of hardened steel, the new Marameter probes are ideal for bore measurement at the point of manufacture, offering extremely long life. The Marameter 844 K probes are available in three versions as determined by the application needs.
These include:
Marameter 844 K – for through-bore applications; with hard chrome-plated measuring surfaces
Marameter 844 KC – for through-bore applications; with diamond-like carbon (DLC) coated measuring surfaces and inner edges. DLC offers increased corrosion resistance, wear protection and low friction for sensitive or abrasive surfaces, such as non-ferrous metals and aluminum alloys – its unique color helps to identify these long-wear probes
Marameter 844 KS – for blind bore applications; hard chrome-plated measuring surfaces
All 844 K probe measuring surfaces are polished, creating a very low friction coefficient and preventing marring or scratching of precision-machined and sensitive bore surfaces. This helps to prevent potential damage to finished products. Mahr's 844 KC, with its DLC coating, offers long life even in the highest production run environments. However, should the plug eventually start to wear, the unique dark color of the DLC offers a visual indicator of wear on the measuring surface.
"The Marameter 844 K system of inside measuring probes is versatile enough to be used in a variety of applications, in an inspection room or at the point of manufacture and are designed to improve accuracy, reduce wear and waste," said George Schuetz, Director Precision Gages at Mahr. "The redesigned and upgraded Marameter 844 K measuring systems offer longer life and improved performance to this line of plugs that our customers already trust."