April 01,2014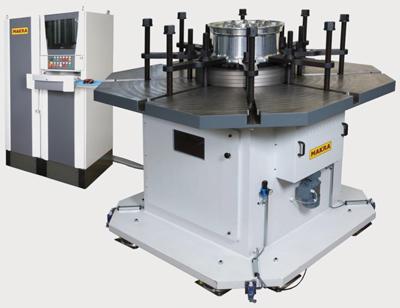 LMC Workholding is now offering Alpine Metal Tech GmbH products in North America for the alloy wheel manufacturing industry. Alpine Metal Tech, part of Montana Tech Components AG, offers products worldwide under the leading brand names of Numtec and MAKRA. Numtec supplies machines and devices for the production of aluminum passenger car wheels with a primary focus on the handling, coding, identifying and measuring of the wheel at various stages of the manufacturing process. MAKRA machines provide aluminum wheel testing and enable aluminum wheel producers, inspection authorities, and automobile manufacturers to ensure that all standards, regulations, and safety requirements are fulfilled.
One such machine is the MAKRA BUP Alloy Wheel Fatigue Strength Test Machine. Through the application of a centrifugal force applied by a rotating counterweight, the BUP test machine duplicates those forces that are applied to the front wheel of an automobile during hard right or left hand turns at high speed.
"We're delighted to be able to work with Alpine Metal Tech. Our LMC wheel chucks keep us very close to the wheel industry and these new products are a great addition," said Jay Duerr, President of LMC Workholding.
Related Glossary Terms
fatigue


fatigue

Phenomenon leading to fracture under repeated or fluctuating stresses having a maximum value less than the tensile strength of the material. Fatigue fractures are progressive, beginning as minute cracks that grow under the action of the fluctuating stress.

fatigue strength


fatigue strength

Maximum stress that can be sustained for a specified number of cycles without failure, the stress being completely reversed within each cycle unless otherwise stated.