June 16, 2017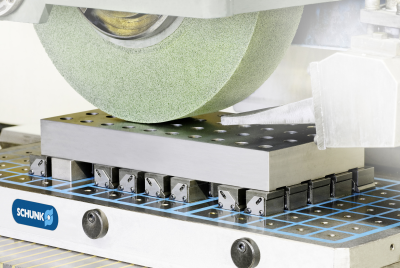 SCHUNK says its MAGNOS parallel pole, square pole, and radial pole plates ensure reliable workpiece clamping, quick workpiece changes, and particularly efficient processes in grinding applications. Among other things, SCHUNK MAGNOS square pole grinding plates boost productivity by up to 200 percent, compared to conventional solutions using parallel-pole technology.
Movable pole extensions make such a difference possible and ensure uniform, deformation-free clamping. These allow all flat workpieces to be ground micron-precise with regard to flatness and parallelism. Multiple grinding operations, repeated changes to the clamping configuration, and time-consuming mounting are no longer necessary with the MAGNOS square pole technology.
The compensating magnetic chucks are equipped with adhesive force regulation as standard to enable individual adjustment of their adhesive force to the workpiece in question. A special magnetic chuck design makes it possible to machine even extra-hardened workpieces, and then effortlessly remove them from the magnetic chuck.
Design features:
MAGNOS square pole grinding plates fitted with movable pole extensions are ideal for flat grinding of large, thin workpieces with a material thickness of 4 mm or higher.
Due to the grid size of 32 x 32 mm, small or narrow parts can also be clamped free of deformation.
If required, the square pole plates can be clamped to already installed parallel pole plates to form a complementary clamping solution
The monoblock design ensures high stability and rigidity, thus minimizing vibrations and improving the surface finish.
Additional stops can be installed in the threaded holes located on the side allowing alignment of the workpieces in a matter of seconds.
The square pole grinding plates are available in 12 standardized sizes, with individual dimensions also possible.