July 01, 2014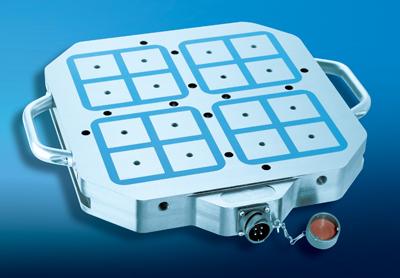 Combined with a SCHUNK VERO-S quick-change pallet system, MAGNOS magnetic chucks are more efficient, according to Schunk. The magnetic chucks can be exchanged in seconds at a repeat accuracy of less than 0.005mm. Also, if a magnetic chuck is clamped with a SCHUNK VERO-S interface, the highest clamping forces are ensured when the magnetic chuck is exactly positioned on the machine table.
Product features include: simple handling, precise repeat accuracy, tremendous reduction of set-up times, and flexible application possibilities. Control is done by a control unit which has to be ordered separately.
The unit is available in 480 volt with over 200 lbs clamping force per square inch. Standard sizes include 16 x 16 and 16 x 24. Custom sizes available upon request.
Related Glossary Terms
chuck


chuck

Workholding device that affixes to a mill, lathe or drill-press spindle. It holds a tool or workpiece by one end, allowing it to be rotated. May also be fitted to the machine table to hold a workpiece. Two or more adjustable jaws actually hold the tool or part. May be actuated manually, pneumatically, hydraulically or electrically. See collet.

magnetic chuck


magnetic chuck

Workholding device used on surface grinders and milling machines for holding ferrous parts with large, flat sides. Holding power may be provided by permanent magnets or by an electromagnetic system. See chuck.