October 03, 2016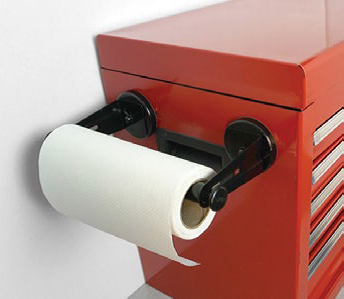 The newest product from Master Magnetics continues to honor the company's legacy of launching innovative magnetic tools. The Magnetic Paper Towel Holder is no exception. This unique, adjustable magnetic fixture is ideal for keeping paper towel rolls, cleaning wipes, sterile glove boxes and other items neatly stored and accessible.
"We are committed to bringing innovative and useful magnetic tools to our customer," said Jennifer Brown, CEO of Master Magnetics. "Our new paper towel holder is particularly useful because it crosses so many markets."
This magnetic tool is for use in shops, garages, warehouses, RVs, work trucks and vans, medical facilities, schools, offices, gyms and other compact areas. With the magnetic paper towel holder, there is no need to permanently install fixtures or use screws and anchors. Instead, the magnetic adjustable paper towel holder's unique design is easily repositionable to any flat, ferrous metal surface.
The sturdy black metal housing features an adjustable holder. The powerful magnet grips smooth, ferrous surfaces keeping items firmly in place. The nonscratch liner on each magnetic base prevents scratching or marring of metal surfaces.
The magnetic paper towel holder is available in retail packaging or with packaging for industrial users. It features:
• Powerful magnet with non-scratch liner
• Six-inch roll diameter capacity
• Adjustable depth knob from 1 to 3 in.
• Measures 2.625 in. dia. x 4.625 in. long
• MSRP $20
• Packaged for resale or end-use
Related Glossary Terms
fixture


fixture

Device, often made in-house, that holds a specific workpiece. See jig; modular fixturing.

flat ( screw flat)


flat ( screw flat)

Flat surface machined into the shank of a cutting tool for enhanced holding of the tool.