August 10, 2021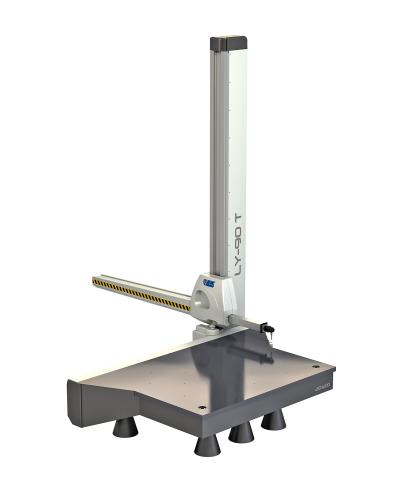 lk metrology launches cost-optimized horizontal arm cmms
To supplement its super-high-accuracy HC-90 ceramic horizontal arm coordinate measuring machines (CMMs), British manufacturer LK Metrology, Castle Donington, UK has introduced three additional models of technically advanced design based on an aluminium construction. They provide users with multiple affordable alternatives for dimensional inspection of large components typically found in the automotive, land transport and heavy industries.
The new, horizontal arm CMMs are supplied in three ranges – the LY-90T table version, LY-90R rail version with single or twin arms, and the shop floor ready HD-90 rail version with single or twin arms, which has been developed specifically for quality control of vehicle bodies and sub-assemblies in car plants.
Of rail design, the HD-90R single-rail and HD-90TR twin-rail models offer superior dynamics and accuracy and are designed for use in production areas. They are encapsulated in protective covers to ensure thermal insulation against environmental changes and to protect the system from airborne contaminants typically found in a workshop environment.
The CMM rails can be installed on the floor without the need for a special foundation or may be recessed with heavy duty walk-on covers protecting the X-axis slideways. The open structure guarantees maximum accessibility to the measurement area, simplifying manual or automated component loading and unloading in a production area, including those employing roll-on/roll-off pallet transfer and in-line/line-side automation.
Air bearings mounted on both the Y-axis and Z-axis are the key element of this high-performance measurement solution. For the twin-arm version, the measurement volumes of the two horizontal arms overlap each other by 100 mm to ensure access to all component features. Ten sizes of HD-90 are available with axis travels from 4,000 x 1,600 x 2,000 mm to 8,000 x 1,600 x 3,000 mm.
Typically used in line-side metrology applications, the LY-90T table CMM has the horizontal arm installed on guideways side-mounted onto a cast iron surface plate for the measurement of small, medium and large sheet metal and plastic components, for example. The table and special three-point support system eliminate the need for expensive dedicated foundations. The LY-90T is available in 21 standard models with axis travels ranging from 2,000 x 1,200 x 1,000 mm to 6,000 x 1,600 x 2,500 mm.
The LY-90R single-rail and LY-90TR twin-rail CMMs offer a similarly technically advanced, cost-effective, typically in-line metrology solution for the dimensional control of large, heavy components found in vehicle manufacture and heavy engineering. The rails can be installed flush at floor level, with heavy duty walk-on covers protecting the X-axis slideways. The open design provides full access for part loading/unloading, including within in-line/line-side automated inspection cells with roll-on/roll-off transfer systems. The LY-90R is available in 17 standard models with axis travels ranging from 2,500 x 1,500 x 1,500 mm to 6,000 x 1,600 mm x 2,500 mm.
LY-90 machines are modular in construction and easy to configure, with Y- and Z-axis air bearings, double recirculating X-axis bearing guideways (LY-90R/TR) or X-axis air bearings (LY-90T), counterbalance with safety brake, super high resolution linear encoders and DC servo motor drives. This design combines the flexibility and automation of a CMM with the speed and intuitive use of traditional measurement gauges.
A full range of probing options is offered to suit all types of metrology application, including motorised indexing probe heads and touch trigger probes, infinite positioning servo wrist heads with long reach probe builds, scanning probes, and single- or triple-stripe laser scanners. On offer also is an advanced array of software, including LK CAMIO measurement, programming, analysis and reporting software and ArcoCAD metrology software from Metrostaff. The Industry 4.0 Metrology Gate portal provides remote access to quality data and CMM status from any internet connected device anywhere in the world. LK Metrology's offering is rounded off by a vast array of automation options.
Related Glossary Terms
land


land

Part of the tool body that remains after the flutes are cut.

metrology


metrology

Science of measurement; the principles on which precision machining, quality control and inspection are based. See precision machining, measurement.

quality assurance ( quality control)


quality assurance ( quality control)

Terms denoting a formal program for monitoring product quality. The denotations are the same, but QC typically connotes a more traditional postmachining inspection system, while QA implies a more comprehensive approach, with emphasis on "total quality," broad quality principles, statistical process control and other statistical methods.