May 12, 2012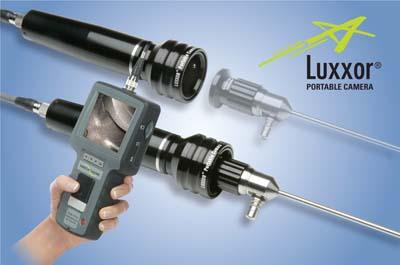 The new Luxxor Portable Video Camera (LPC) quickly and easily attaches to any Hawkeye Rigid or Flexible Borescope, and most other major borescope brands as well. Now, any borescope can quickly and easily become a videoscope, simply by attaching the borescope to the video coupler of the Luxxor Portable Camera.
Designed and manufactured by Gradient Lens Corporation (GLC), also the manufacturer of Hawkeye Precision Borescopes, the new Luxxor Camera allows users to view internal visual inspection images on portable or benchtop video monitors, or, on laptop or desktop computers. Video footage, and still photos, can then be viewed "live" and saved, documented, and emailed. The LPC can attach to any of the over 80 Rigid and Flexible Hawkeye Borescopes, and most other major borescopes brands.
"This new product finally allows current borescope owners to economically convert any scope they have to video. Video visual inspection is faster and easier than viewing through the scope directly, and adds the significant advantage of capturing inspection images, storing them, or sending them via email to customers, coworkers, and more," said Dr. Douglas S. Kindred, GLC's president. "Furthermore, this new product delivers great value to our customers by allowing even one Luxxor Portable Camera to be used with any, or all, of the borescopes they currently own."
The Luxxor Portable video Camera has a ¼" Color CCD, built-in 25mm Borescope Coupler, 768 X 494 Pixel Resolution, and can be attached to the Luxxor Portable Video Monitor (PVM-DV) for fully portable operation, or to any computer or video monitor. The LPC is priced at just $995.