May 26, 2023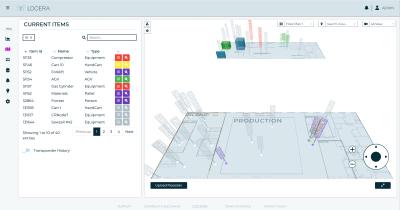 Siemens presented the new Locera software platform during AUTOMATE 2023, which expands the SIMATIC RFID (Radio Frequency Identification) and RTLS (Real-Time Locating System) offerings to include the digital twin of performance.
Locera is a RTLS and RFID platform developed by KAASM, a technology company that specializes in providing innovative solutions for logistics and supply chain management.
It is designed to help organizations track and manage their assets and inventory in real-time, providing data and insights that can be used to optimize operations, reduce costs, and improve overall efficiency.
The cloud-native software analyzes and visualizes dynamic data, processes events, and can be addressed directly from local MES (Manufacturing Execution System) or ERP (Enterprise Resource Planning) systems via API or webhooks. The intelligence acquired based upon position data provides the user with a comprehensive overview of asset tracking, material flow, order information or possible problem areas.
Locera features both RFID and RTLS technologies that can be used independently or together to track assets and inventory throughout the supply chain. RFID tags or RTLS transponders are attached to items which can then be read by RFID readers or RTLS gateways at various points along the supply chain. Both UWB (Ultra-Wideband) and UHF (Ultra High Frequency) technologies are used to identify and track the location of these items, providing real-time visibility into their movements.
The transponder ID is linked to the existing order data. For example, depending on the process step and order status, order information can be displayed on the SIMATIC RTLS ePaper transponders, providing a paperless solution. When the order ID is entered, the real-time positions of linked transponders are shown on the customer's digital card.
The insight achieved by this technology enables the individual optimization of production and logistics processes utilizing virtually defined areas known as geofences. 3D Geofences can be easily created in Locera via the desktop app or the augmented reality companion app and are used to detect entry into and out of exit from defined areas. The associated entry and exit events can be statistically evaluated, visualized, or linked to additional actions like alerts and notifications.
Locera is a powerful product family software that helps organizations improve supply chain management processes by providing real-time visibility into their operations, addressing bottlenecks and deviations from the production schedule. It provides the location and identification data to help streamline workflows optimize operations through accurate analyses and rapid decision support.
Related Glossary Terms
inner diameter ( ID)


inner diameter ( ID)

Dimension that defines the inside diameter of a cavity or hole. See OD, outer diameter.