February 01, 2011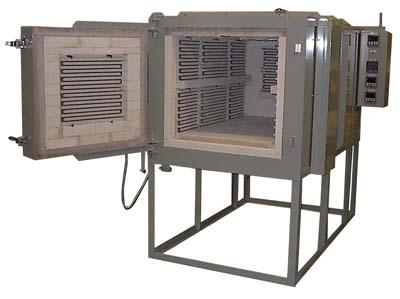 Lucifer Furnaces Inc. has designed a large heat treating box furnace for a leading provider in the aerospace industry. The 20" high by 20" wide by 40" long unit will be used in the manufacture of engine parts. This 3 zone furnace with tight uniformity meets the AMS2750 specification required by NADCAP.
Constructed with an angle iron steel frame and heavy gauge sheet steel facing welded to form a rigid unit, this furnace heats to 2000°F. With a three zone master/slave temperature control system and overtemperature safety controls linked to a computer interface, reduced cooling time is achieved through a fresh air damper system. 54 kW power is generated through heavy gauge wire heating elements in removable radiant panels located in the door as well as side walls and rear wall of the furnace.
The horizontal swing door is secured with 2 cam locks and a safety micro switch to automatically shut power when door is opened. The end user chose Lucifer Furnaces to supply their heat treating equipment with the goal of shortening their heat treating cycle. Their new box furnace will complement an existing one already in operation.