October 27, 2021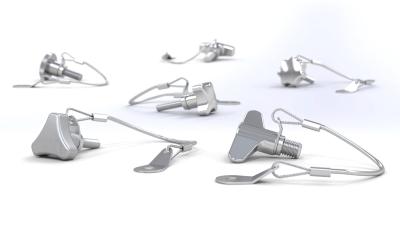 WDS Components Ltd has released a new range of hand knobs with loss protection, designed to increase machine protection, speed up maintenance and meet EU machinery directives. The hand knobs are secured to machinery by a permanently fixed lanyard attachment and are intended for use with panels and machinery guards for OEM or end user retrofit.
The lanyard attachment is bolted to the installation, preventing loss of the adjoining hand knob when the knob is unscrewed by suspending or retaining it within easy reach. The secure lanyard attachment also protects machinery from damage during maintenance by preventing the hand knob from falling into moving or sensitive machine parts. Permanently retaining the hand knob ensures that machinery panels can remain secure at all times, enhancing operator safety and protection of the machine. Lanyard attachment also means faster, safer maintenance.
The loss prevention hand knobs satisfy EU Machinery Directive 2006/42/EC that requires fixing systems to remain attached to the guards or to the machinery when the guards are removed. The lanyard is quickly fixed to machinery by an adjoining tab secured by a fixing nut included in the kit.
The kits are available in stainless steel throughout with threads and fitting nut constructed in 316 stainless steel, with hand knobs available in a choice of grades 304 or 316, and the lanyard wire, crimp sleeves and tabs made from grade 304. This makes the kit sufficiently durable for use in harsh and corrosive environments, including marine and food & beverage. The lanyard wire is also coated with a clear nylon jacket to reduce abrasion to the lanyard and scuffing of the adjoining machine.
There are over 10 styles of hand knob to choose from, including thumb screw, T-knob, four-lobe knob, wing knobs and star knobs, and the knob's stainless steel finish is available in polished or matt to suit the application. Thread sizes range from M6 to M12 and the length of the lanyard varies is at a standard length of approximately 250mm. The lanyard tab suits size M6.
Available in single units with no minimum order quantities, the loss prevention hand knobs are also joined by a wide range of lanyards and loss prevention devices presented on wdscomponents.com. The website also includes CAD files for each item available in all primary CAD formats as well as 3D images that can be viewed with non-specialist software. WDS can also provide same day despatch to global locations.