December 17, 2022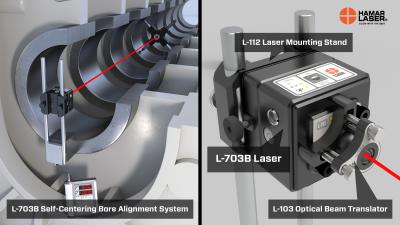 Hamar Laser Instruments, Inc., a world leader in laser alignment, has released its new, upgraded L-703B Self-Centering Bore Alignment System. The new system uses the L-703B Laser variant of Hamar Laser's compact and extremely versatile new L-703 Laser which the company introduced in June.
Hamar Laser's L-703B Self-Centering Bore Alignment System makes bore alignment easier and up to 75% faster than competing systems. The new L-703B Laser replaces the L-705 Laser for applications where the laser is mounted externally. Smaller and lighter than the L-705, the L-703B works with Hamar Laser's patented, self-centering targets that require only one measurement per bore. Applications include engine blocks, compressor bores, cylinder bores, shaft bearing bores, stern tubes and more.
"In addition to the new bore laser, our L-703B Self-Centering Bore Alignment System includes our new L-112 Laser Mounting Stand and L-103 Optical Beam Translator," said Rod Hamar, President of Hamar Laser Instruments. "The new laser and accessories facilitate alignments in smaller spaces, speed setups and have allowed us to significantly reduce the package pricing. Rounded out with our patented, self-centering targets, there is no better system than the L-703B for high-accuracy bore alignment."
In addition to being faster and more affordable, Hamar Laser's new L-703B Self-Centering Bore Alignment System offers a resolution of .00004 in. (0.001 mm) and much higher accuracy and repeatability than competing products. It is also easier to use and requires less training. A bore alignment survey takes only 15 minutes.
Hamar Laser's L-703B Self-Centering Bore Alignment System includes these design upgrades:
Smaller & Lighter—The new design reduces both the size and weight of the laser significantly.
Adaptable to Other Applications—With different accessories and a firmware upgrade, the L-703B can be adapted to several other applications, such as extruder alignment, guideway alignment, and lathe and spindle alignment.
Internal Rechargeable Battery—The L-703B now features a built-in rechargeable Lithium-Ion battery with 11 hours of continuous battery life, which replaces the older L-705 Laser's external battery pack.
New Laser Mounting Stand—The new L-112 Laser Mounting Stand is significantly improved over the previous L-111 Stand, and now offers horizontal coarse translation and vertical angular adjustment, which greatly speed laser setups.
New Optical Beam Translator—The new L-103 Optical Beam Translator is much easier to use than the L-102 Translator, its predecessor, and is much smaller, making it easier to fit the L-703B and L-103 into tight spaces.
The L-703B Laser supports Hamar Laser's entire series of 2-axis cabled bore targets when used with the company's R-1307 Readouts, and supports Hamar's R-358 Computer Interface when used with those targets.
Related Glossary Terms
lathe


lathe

Turning machine capable of sawing, milling, grinding, gear-cutting, drilling, reaming, boring, threading, facing, chamfering, grooving, knurling, spinning, parting, necking, taper-cutting, and cam- and eccentric-cutting, as well as step- and straight-turning. Comes in a variety of forms, ranging from manual to semiautomatic to fully automatic, with major types being engine lathes, turning and contouring lathes, turret lathes and numerical-control lathes. The engine lathe consists of a headstock and spindle, tailstock, bed, carriage (complete with apron) and cross slides. Features include gear- (speed) and feed-selector levers, toolpost, compound rest, lead screw and reversing lead screw, threading dial and rapid-traverse lever. Special lathe types include through-the-spindle, camshaft and crankshaft, brake drum and rotor, spinning and gun-barrel machines. Toolroom and bench lathes are used for precision work; the former for tool-and-die work and similar tasks, the latter for small workpieces (instruments, watches), normally without a power feed. Models are typically designated according to their "swing," or the largest-diameter workpiece that can be rotated; bed length, or the distance between centers; and horsepower generated. See turning machine.