April 27, 2021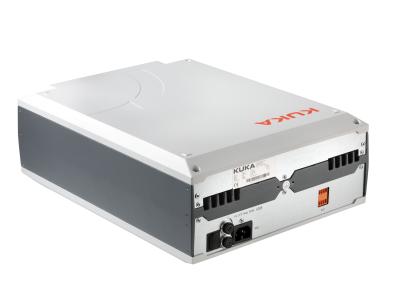 KUKA Robotics Corporation unveiled the latest advancement in its line of robot controllers with the new KR C5 micro. The robot controller features an industry first compact design, yet it provides the same, if not more, capabilities and storage capacities as full-sized controllers but in a much lighter and approximately 200% smaller size platform. The new controller is for the company's KR AGILUS and KR 6 SCARA families of robots, and its compact size saves floor space and provides significantly increased mounting flexibility along with seamless integration of software and robot compatibility.
With an overall volume of only 16 liters and weighing just 9 kg, the KR C5 micro, allows users to mount the controller horizontally or vertically in a wall mounted/bookshelf orientation or stack multiple units on top of each other, or with an existing standard 19" rack mount cabinet. Optional mounting brackets for controller fastening allow the new controller to adapt to existing industry standard rack mount rails for having multiple robot controllers within a single cabinet. Plus, with a lighter, more compact design, the KR C5 micro is easy to deliver/ship, set up and relocate if needed.
The KR C5 micro operates on 220V single-phase power and comes equipped with the latest KUKA System Software (KSS), version 8.7, that gives users the ability to easily migrate programs from their existing KR C4 controllers under KSS 8.6 over to the new KR C5 micro. This capability eliminates the need to rewrite existing programs. Available software tech packages for the new controller make particular processes smooth and easy, including dispensing, laser applications, gripper control and more.
Accessories for the KR C5 micro include power cables, external battery box, all necessary plugs, mounting brackets and, as optional, removable SSD card and 19" rail mounting frame. For additional flexibility in battery backup, KUKA's options allow for the use of either a KUKA battery or users can supply their own uninterruptable power source. KUKA also gives users the option to use one battery for up to three robots via a simple cable connection.
Related Glossary Terms
robotics


robotics

Discipline involving self-actuating and self-operating devices. Robots frequently imitate human capabilities, including the ability to manipulate physical objects while evaluating and reacting appropriately to various stimuli. See industrial robot; robot.