May 04, 2021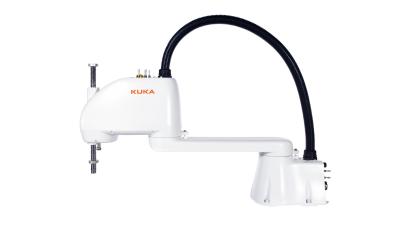 To meet the growing automation needs of the electronics industry, among others, KUKA Robotics Corporation introduces its new KR 6 SCARA robot that further expands the company's robust product portfolio. The new 4-axis robot is faster and lighter than traditional smaller 6-axis robots to provide manufacturers ease of use and significant increases in production speed.
For electronics applications, the new KR 6 provides a 6-kg payload and positions at a repeatability of +/-.02 mm. It offers reach/radius options of 500 and 700 mm, and Z-axis stroke of 200 mm.
For maximum acceleration and velocity, KUKA's optimal motion planning software calculates and sets the correct motion path to ensure that all the robot's axes can finish moving simultaneously at the desired point in space. In electronics applications, there is little need for changes in part orientation, so necessary robot moves are up, down and inserting. It is for this reason that the KR 6 is simple and easy to use, as well as light weight and extremely fast.
In addition to the KR 6 robot, the system includes a KUKA smartPAD teach pendant, robot controller and motor and data cables.
The new KR 6 is backed by KUKA's expert service and support for training, complete system engineering and simulation, readily available spare parts, robot refurbishment and more. All of which are easily accessible through the my.KUKA.com site, and KUKA maintains corporate offices and production operations, along with integration partner facilities, conveniently located throughout North America to provide responsive customer service and support.
Related Glossary Terms
part orientation


part orientation

Designing the assembly machine, feeding mechanism and the part itself so the parts to be assembled are properly aligned prior to and during the assembly operation.

payload ( workload)


payload ( workload)

Maximum load that the robot can handle safely.

robotics


robotics

Discipline involving self-actuating and self-operating devices. Robots frequently imitate human capabilities, including the ability to manipulate physical objects while evaluating and reacting appropriately to various stimuli. See industrial robot; robot.