July 15, 2021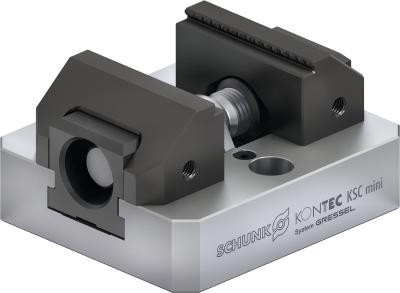 Speed is the key to success – especially when it comes to handling of parts to be clamped. Flexibility is also a factor that must not be neglected. The new SCHUNK KONTEC KSC mini small parts vise addresses both with easy handling and high clamping force. Its jaw quick-change system enables users to convert the compact vise efficiently and without tools in no time at all. Users can exchange the jaws by simply clicking in and out.
The KONTEC KSC mini is the vise of choice for flexible use in efficient blank and finish part machining. Conversion on a larger clamping range is even possible without requiring additional accessories. Different jaw widths of 45 and 70 mm can be used on the same basic vise, allowing optimal adjustment to different clamping tasks.
Due to its optimal accessibility, the KONTEC KSC mini is ideal for 5-sided machining.
Compact vise with a lot of power
Despite its compact dimensions at maximum 16 kN, the KONTEC KSC mini has a high clamping force and makes a preforming work step of the parts unnecessary. Therefore, it is especially suitable for any application in small parts handling where clamping is done out of the center. But its use is also interesting for the automotive and metal-cutting industry, as well as for tool and mold making. Due to its high clamping force, the vise is excellently suitable for blank and finish part machining. The small parts vise has a width of 70 mm, and a maximum torque of 50 Nm. The offered vise lengths are 80 and 100 mm and enable high flexibility on the workpiece. Its stainless and hardened base body also ensures a long service life.