February 01, 2015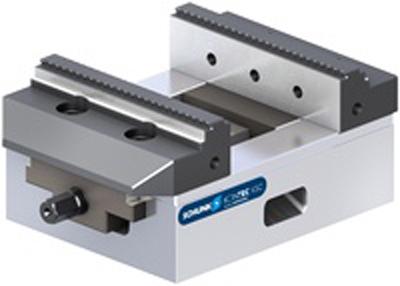 The SCHUNK KONTEC KSC centric clamping vise is a multifaceted component that has optimal jaw support for ID and OD clamping with long base jaw guidance. It can be easily adapted for conventional clamping, short clamping depths for 5-sided machining, mould parts, plates or saw cuts.
The KSC 125 is known for high precision and process reliability. A pre-tensioned and backlash-free center bearing and an extra fitted slide guarantee a repeat accuracy of ±0.01mm and enable the precise processing of the first and second side in a clamping system. An integrated chip drain and a protected spindle assure maximum process reliability. The centric clamping vise is ideally suited for affordable storage solutions in automated machine tools.
The new vise is available with jaw width of 125mm with two base body lengths of 160 and 300mm.
Related Glossary Terms
inner diameter ( ID)


inner diameter ( ID)

Dimension that defines the inside diameter of a cavity or hole. See OD, outer diameter.

outer diameter ( OD)


outer diameter ( OD)

Dimension that defines the exterior diameter of a cylindrical or round part. See ID, inner diameter.

sawing machine ( saw)


sawing machine ( saw)

Machine designed to use a serrated-tooth blade to cut metal or other material. Comes in a wide variety of styles but takes one of four basic forms: hacksaw (a simple, rugged machine that uses a reciprocating motion to part metal or other material); cold or circular saw (powers a circular blade that cuts structural materials); bandsaw (runs an endless band; the two basic types are cutoff and contour band machines, which cut intricate contours and shapes); and abrasive cutoff saw (similar in appearance to the cold saw, but uses an abrasive disc that rotates at high speeds rather than a blade with serrated teeth).