January 13,2013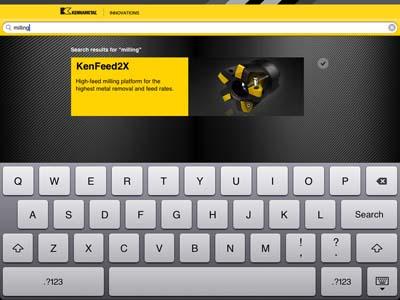 The "Kennametal Innovations" app features interactive, cutting-edge animations and real-world demonstrations of Kennametal's productivity-enhancing technologies for machining and industrial processes.
The new app provides an engaging experience for manufacturers to learn how Kennametal increases uptime and performance, including proven platforms and engineering knowledge for diverse machining and production processes. The easy-to-use "Kennametal Innovations" app is free to download from the iTunes App Store and contains some of the company's latest metalworking tooling technologies. The app's simple navigation makes it easy to search via keywords to find specific tooling solutions and product groups.
Among key features:
Product animations provide clear visual representations of processes with direct links to detailed information.
A navigation map offers drop-down menus with supplemental information, including expandable and customizable, charts and graphs.
User-driven navigation with selectable data provides quick, convenient comparisons to complimenting and competitive products.
Demonstrations and application videos provide valuable, real-world experience of the tooling technologies in actual use.
Kennametal plans to release a version of the "Kennametal Innovations" app for Android devices in the future.
Related Glossary Terms
metalworking


metalworking

Any manufacturing process in which metal is processed or machined such that the workpiece is given a new shape. Broadly defined, the term includes processes such as design and layout, heat-treating, material handling and inspection.