February 01, 2014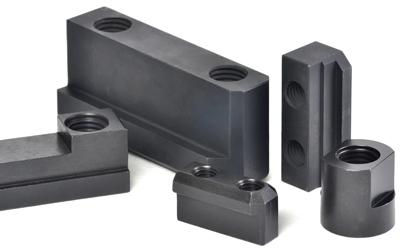 Manufactured from 4140 heat treated steel, Dillon Jaw Nuts and Keys reportedly provide superior wear resistance, impact resistance, higher tensile strength, and extended jaw nut, which significantly outperforms jaws made from case hardened 1018 steel.
Dillon Jaw Nuts, T-nuts, and Keys are available to fit all popular power chucks from 6" in diameter to 24" in diameter including Forkhardt, Gamet, Howa, Kitigawa, Matsumoto (MMK), Nikko, Pratt Burnerd, Rohm, Samchully, Schuck, SMW, SMW-Autoblok, and more. Dillon 4140 jaw nuts and keys are ideal for workholding applications requiring durability and high strength such as high speed machining.
Customers purchasing an extra set of jaw nuts can convert a chuck into a quick-change-chuck. With a spare set, jaw change time can be reduced 60 percent because the chuck can be preassembled for the next operation while machining the current one. This operational efficiency can be achieved at a fraction of the cost of a Quick-change chuck.
Dillon also offers a special T-Nut design and manufacturing service for custom workhlolding requirements.
Related Glossary Terms
chuck


chuck

Workholding device that affixes to a mill, lathe or drill-press spindle. It holds a tool or workpiece by one end, allowing it to be rotated. May also be fitted to the machine table to hold a workpiece. Two or more adjustable jaws actually hold the tool or part. May be actuated manually, pneumatically, hydraulically or electrically. See collet.

tensile strength


tensile strength

In tensile testing, the ratio of maximum load to original cross-sectional area. Also called ultimate strength. Compare with yield strength.

wear resistance


wear resistance

Ability of the tool to withstand stresses that cause it to wear during cutting; an attribute linked to alloy composition, base material, thermal conditions, type of tooling and operation and other variables.