September 03, 2021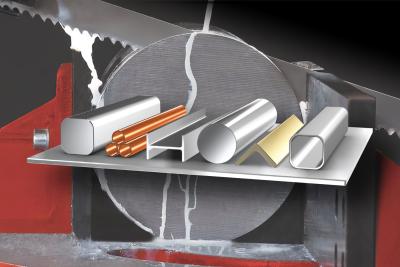 The L.S. Starrett Company, a global manufacturer of precision hand tools and gages, power tool accessories, saw blades and more, offers the newly positioned IntenssTM Bi-Metal Band Saw Blades for general purpose metal sawing of a wide range of materials and shapes.
Featuring a patented process developed by Starrett called bi-metal unique® technology, that provides 170% more weld contact with the teeth, Intenss blades exhibit superior resistance to tooth strippage, significantly reducing fracture and breakage, which enables exceptionally long blade life. Performance is further enhanced by M-42 teeth with a multi-edge tooth design that produces split chips for faster cutting.
"Starrett Intenss is an ideal affordable workhorse blade for general sawing in toolrooms, maintenance shops and fabricating or machine shop applications where one blade cutting a wide range of common materials with different shapes is a good sawing solution," said Jordan Schimel, Starrett Product Manager – Saws & Hand Tools. "In addition, bi-metal unique promotes long blade life, so fewer blade changes are required."
Starrett Intenss Bi-Metal Blades are available in 1/2", 3/4" and 1" widths and .025" and .035" thicknesses, featuring bi-metal unique. Blades in 1-1/4" or 1-1/2" widths and .035" and .042" thicknesses are also available, without the bi-metal unique feature. Intenss blades are offered in pitches of 10, 14 or 18, and 2-3, 3-4, 4-6 and 5-8 variable pitches. Coil lengths are available in 100' (30m), 150' (45m) or 250' (75m), depending on blade widths.
Related Glossary Terms
bandsaw blade ( band)


bandsaw blade ( band)

Endless band, normally with serrated teeth, that serves as the cutting tool for cutoff or contour band machines.

sawing


sawing

Machining operation in which a powered machine, usually equipped with a blade having milled or ground teeth, is used to part material (cutoff) or give it a new shape (contour bandsawing, band machining). Four basic types of sawing operations are: hacksawing (power or manual operation in which the blade moves back and forth through the work, cutting on one of the strokes); cold or circular sawing (a rotating, circular, toothed blade parts the material much as a workshop table saw or radial-arm saw cuts wood); bandsawing (a flexible, toothed blade rides on wheels under tension and is guided through the work); and abrasive sawing (abrasive points attached to a fiber or metal backing part stock, could be considered a grinding operation).

sawing machine ( saw)


sawing machine ( saw)

Machine designed to use a serrated-tooth blade to cut metal or other material. Comes in a wide variety of styles but takes one of four basic forms: hacksaw (a simple, rugged machine that uses a reciprocating motion to part metal or other material); cold or circular saw (powers a circular blade that cuts structural materials); bandsaw (runs an endless band; the two basic types are cutoff and contour band machines, which cut intricate contours and shapes); and abrasive cutoff saw (similar in appearance to the cold saw, but uses an abrasive disc that rotates at high speeds rather than a blade with serrated teeth).