December 10, 2019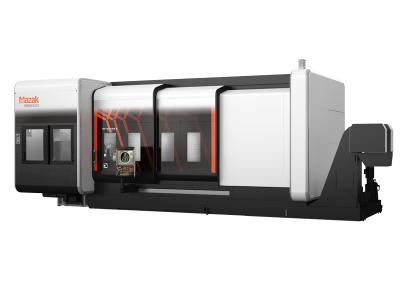 Mazak Corp.'s Integrex i-500 advanced multitask machine is the biggest model in the Integrex i Series family and offers manufacturers more options for machining large, complex workpieces. The machine is available with a 5.2" bore and a 15" chuck on the main horizontal turning spindle and is capable of C-axis indexing in 0.0001-degree increments and comes standard with a 40-hp (30 kW) integral spindle motor that provides a maximum spindle speed of 2,500 rpm.
Customers may select one of four different spindle bore configurations depending on application requirements. A high torque/max rpm's option are available. Additionally, a 30-hp (22 kW), 12,000-rpm milling integral motor spindle rotates in the B-axis throughout a range of +210 and -30 degrees from vertical. A compact milling spindle head, in conjunction with a generous Y-axis stroke of 16.93" (430 mm), create an increased working capacity for larger applications. Optional milling spindle configurations include a 12,000-rpm, 50-hp (37 kW) high-output spindle, a 20,000-rpm, 32-hp (24 kW) high-speed spindle and a 10,000-rpm, 50-hp (37 kW) CAT 50 taper spindle.
For increased versatility, the Integrex i-500 accommodates workpieces up to 27.56" (700 mm) in diameter and 62.09"L (1,577 mm) / 96.65"L (2,455 mm) or 115.96"L (2,920mm) in part lengths for the 1500U/2500U/3000U configurations, respectively. It is also able to meet the machining requirements of a wide variety of workpieces thanks to its tool magazine capacities, which range from the standard 36 tools up to the maximum of 220 in a 40 taper with field expansion capability or up to 108 tools in a 50 taper magazine.
Further options for the Integrex i-500 include a long drill stocker for the 2500U/3000U models, a variety of steady rests capable of supporting workpieces up to 16.14" (410 mm) in diameter and an NC tailstock with built-in center. Optionally available for Done-In-One is a second spindle with three spindle bore options and for increase part
throughput a nine-postion lower turret is available with 10,000-rpm milling available.