December 10, 2019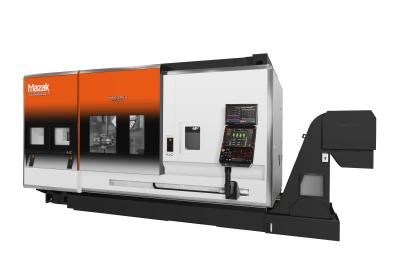 Mazak Corp. has introduced its new Mazatrol SmoothAi CNC, which is available on the Integrex i-450H S Multi-Tasking Machine. In addition to the control, the machine has a new design that increases flexibility and enhances machine performance for significantly easier automation integration, allowing shops to cost effectively boost the output of existing workforces.
As the newest CNC within Mazak's Smooth Technology platform, the Mazatrol SmoothAi centers around three main function categories that are automation, digital machine twins and artificial intelligence (AI). Within its automation
function, the control includes Smooth Robot Cell Controller (RCC) and Smooth Robot Setup Assist, both of which make advanced robotic automation setup and operation with the Intregrex i-450H S fast and seamless.
Within the Mazatrol SmoothAi control, Mazak's Mazatrol Twins software allows shops to create, on a PC, synchronized digital twins of real machines on their shop floors. The digital twins software solutions provide highly efficient machine operation through Smooth Project Manager that ensures efficient job setups and Smooth CAM Ai for an open and interactive interface for CAD/CAM software packages. For fully optimized machining operations, the AI technologies within the new Mazatrol SmoothAi control make for fast and easy programming, control spindle
speed for reduced vibration and boost thermal stability. These Mazak technologies include Solid Mazatrol, which allows users to automatically generate programs from 3D part models; Smooth Ai Spindle, which automatically optimizes spindle speed based on sensor feedback to minimize machining vibration for superior part surface
finishes; and Ai Thermal Shield, which adapts to and learns from environmental changes to control the effects of heat on machining accuracy.
Specific INTEGREX i-450H S machine changes that ease the integration of automation, include front and rear tool setup, flat front design to accommodate robots, tool magazine at the machine's rear side and an easily retrofittable automatic machine door. Other new additions that make for easy machine automation are an integrated automatic jaw changer (AJC) and parallel-type lower turrets. Requiring no additional robot system and without interrupting machine operation, the AJC quickly exchanges jaws from turning spindle chucks with others in jaw stocker systems located above both of the machine's turning spindles. These stocker systems have room for up to 10 jaw sets that can be loaded/unloaded while the machine works.
Featured on ST model Intregrex i-450H machines, Mazak's new parallel-type turrets provide 12 tool positions and a 10,000-rpm rotary tool spindle. The design not only allows for any size tool length to be used, but also eliminates interference when workpieces are held between the machine's two turning spindles while also reducing
chip accumulation on the machine's X-axis covers.
The Intregrex i-450H S, which features two turning spindles and a milling spindle headstock for Done In One part production, accommodates a chuck size of 12" and sports a new extended Y-axis stroke of 300 mm and X-axis of 695 mm for maximum part diameters of 670 mm. The main chuck is 3,300 rpm, while the second chuck is 4,000 rpm, and the distance between centers measures 2,500 mm. The milling spindle comes standard as 12,000 rpm (24/22 kW) with a 20,000 rpm (24/22 kW) version offered as an option.