December 10, 2019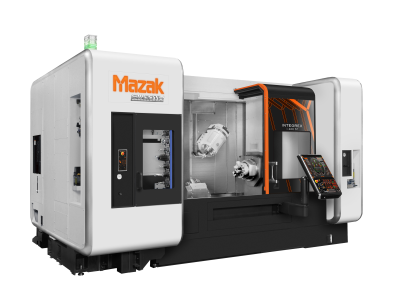 Mazak Corp.'s Integrex i-400ST multitask machine is available with two turning spindles, a milling spindle and lower turret – a configuration that can process first and second operations simultaneously or perform required sequential operations on a single workpiece. With Done In One part production ability to handle all processes from raw material
input through final machining, the Integrex i-400ST reduces lead times dramatically and eliminates multiple setups for improved part accuracy. Its full 5-axis capability can produce fully prismatic parts from solid block or castings, round parts or highly contoured sculptured parts.

Accommodating a 12" chuck, the machine's main turning spindle provides C-axis indexing in 0.0001-degree increments. While the main turning spindle is a 40-hp integral spindle motor with a 3,300-rpm maximum spindle speed, the second, opposed headstock with 10" chuck features a 35-hp integral spindle motor and 4,000 rpm top
speed.
The Integrex i-400ST's 30-hp, 12,000-rpm milling spindle with integral motor rotates through the B-axis from +210 to -30 degrees off vertical. On the Y-axis, the milling spindle also travels a generous 9.84", and to increase application versatility, the machine accommodates workpieces up to 25.9" in diameter and 59.8" long. Its standard 36-tool magazine meets the machining requirements of a wide variety of workpieces and can expand up to 110 tools for even greater flexibility.
The machine's lower drum turret carries nine tools and can work at either the main or second spindle with the same tool. This enables the turret to perform balanced cutting operations on one part, working in tandem with the machine's vertical milling spindle.
Featuring Mazak's Mazatrol SmoothX CNC, the Integrex i-400ST makes it easy to generate programs for processing complex parts through off-centerline machining, as well as angled drilling, milling and tapping – all with effortless
programming in EIA/ISO or Mazatrol conversational language for faster part cycle times. The control incorporates a
wide variety of advanced programming functions for complete ease of use and high-speed, high-accuracy machining performance.