December 11, 2019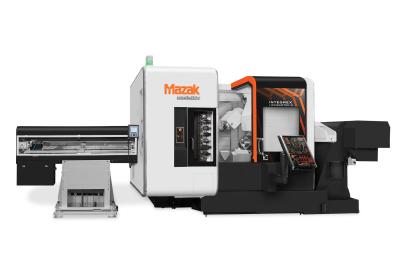 Mazak Corp. offers the Integrex i-100 Bartac-S multitask machine, which incorporates enhanced CNC technology and high-speed servo systems to offer high levels of productivity when processing small high-precision parts in
single setups, as well as machining bar material up to 4" in diameter.
The Integrex i-100 Bartac-S has two turning spindles and a milling spindle for full 5-axis machining and Done In One operations. The main spindle employs a 15-hp integral motor spindle with maximum spindle speeds of 2,000 rpm and a large 4.4" spindle bore. It offers high-precision C-axis contouring by indexing in 0.0001-degree increments. The 15-hp, 6,000-rpm second spindle indexes in increments of 0.001 degrees for C-axis contouring and features a 2.4" bore size.

The machine's powerful 10-hp, 12,000-rpm milling spindle is mounted in the rotating B-axis, which has a 240-degree range of motion and indexes in 0.0001-degree increments. B-axis scale feedback comes standard on the machine to ensure high motion accuracy, while the milling spindle may be upgraded to 20,000 rpm for high-speed machining.
The machine comes standard equipped with a 36-tool magazine that accommodates tools up to 5.1" in diameter when neighboring stations are empty and up to 3.5" in diameter when stations are occupied. For further tooling versatility, the machine also has a 72-tool magazine option as well as an automatic toolchanger (ATC) that can
exchange both fixed and rotary turning tools.
The Integrex i-100 Bartac-S provides expansive axes travels of 8.2" in Y, 17.7" with a below-centerline capability of 1.96" in X and 35.5 in Z, allowing the machine to process a wide range of part sizes and shapes. All three linear axes achieve high-speed 1,575-ipm rapid traverse rates.
In terms of CNC technology, the machine features the new Mazatrol SmoothX CNC, which makes it easy to generate programs for the production of highly complex parts. As a key element of the Smooth Technology process-performance platform, the CNC has several advanced functions that allow it to ensure the shortest possible
machining cycle times, especially in fine increment programs for simultaneous 5-axis operations and free-form die/mold machining.
Ergonomics also play an important role in the functionality of the Mazatrol SmoothX CNC. A large 19" display presents all of the critical machine data at once, while the tilt control panel allows for optimal positioning based on operator height. An intuitive multitouch screen, which is similar to that of a smartphone, enables fast and smooth
programming operations. An SD card allows the CNC to store up to 32GB of data. Through its Intelligent Bar Loader System, the Integrex i-100 Bartac-S brings advanced tactics to bar work machining. The system automatically feeds out the material the required distance from the machine's chuck and minimizes the bar remnant. An optional chuck pressure management system automatically changes by part program for a wide variety of workpieces. It maintains not only the set chuck pressure per workpiece, but also the same pressure when changing material.
The finished workpiece is removed by the optional compact integrated work unloader in the upper part of the second spindle as opposed to an auto-parts catcher. A powered conveyor then transfers the workpiece outside of the machine. The unloader hand is designed to prevent any marring of the finished workpiece. The optional Intelligent Bar Loader System and work unloader are essential to unmanned operations.
Designed for convenient system installation, the Integrex i-100 Bartac-S has a 127" x 103.8" footprint, which requires minimal floor space when compared with conventional equipment that utilizes a gantry loader or robot system.