December 14, 2017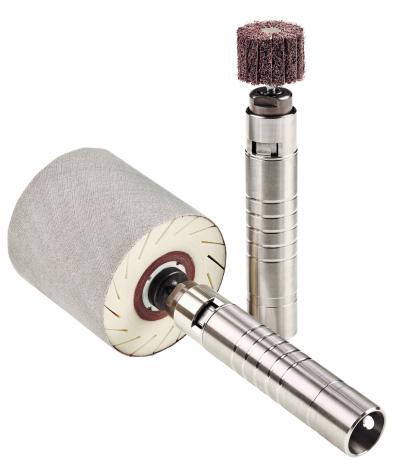 Nowadays, more and more products are being manufactured from stainless steel and higher and higher requirements are being placed on the surface finish of these products. In the process, a problem has appeared that does not seem to be spectacular at first glance, but ultimately causes high costs: extraneous rust.
Preventing tools from coming into the surfaces of usually very expensive parts during grinding is extremely difficult. Depending on the material of the tool, minuscule particles remain on the surface even in case of only brief contact. These particles become visible as extraneous rust over time.
To prevent this problem, a careful and therefore timely procedure is required.
The universal SUHNER machines with a flexible shaft are the grinding technology of choice for professional applications. Their versatility, performance and flexibility are second to none. As a result, they have been firmly established in industry and trade for years.
SUHNER – the specialist in this area – has now developed a series of new handpieces for this all-rounder. They bear the additional designation "INOX" and put an end to the problem of extraneous rust. The series comprises four basic models plus international variants, of which each is almost completely manufactured of stainless steel – from the external jacket to the clamping nut. In practice, this means: no contamination with rusting particles, the greatest possible protection of the workpieces and a clear reduction of costs.
The structural design with dimensions, weight, speed ranges, and so on remains identical. The new handpieces thus fit the existing machines.
To protect the ball bearing and dampen vibrations, the handpieces have an elastic bearing. This makes machining with carbide cutters agreeable and protects the tools, while guaranteeing true running and a long service life. The handle sleeve is uncoupled from the working spindle. Air chambers in the bearing have an heat-insulating effect.
During vibration measurements with carbide cutters, a 50% reduction was measured in comparison
with previous handpieces.
For a quick and easy change, the new handpieces are equipped with an additional mounting aid.
The chuck diameters amount to 6, 8 and 12 mm with corresponding variants for the international market. The handle sleeves have a cylindrical shape for safe clamping in chucks, e.g., for the attachment of safety devices or customer-specific adaptations.
The external diameters are as follows: 18.5, 25 and 32 mm.
SUHNER also provides all flexible shafts with stainless hose couplings that fit all handpieces in the standard design. This combination guarantees the long service life of both devices.
The new, straight handpieces have been specifically developed for the processors of INOX materials in the area of surface processing or refinement. They are used in container construction for the pharmaceutical and food sectors, the construction of large kitchen furniture, the metal construction of stainless steel doors and windows, and railing construction and wherever a lasting, fine finish is decisive in stainless steel processing.
Related Glossary Terms
chuck


chuck

Workholding device that affixes to a mill, lathe or drill-press spindle. It holds a tool or workpiece by one end, allowing it to be rotated. May also be fitted to the machine table to hold a workpiece. Two or more adjustable jaws actually hold the tool or part. May be actuated manually, pneumatically, hydraulically or electrically. See collet.

grinding


grinding

Machining operation in which material is removed from the workpiece by a powered abrasive wheel, stone, belt, paste, sheet, compound, slurry, etc. Takes various forms: surface grinding (creates flat and/or squared surfaces); cylindrical grinding (for external cylindrical and tapered shapes, fillets, undercuts, etc.); centerless grinding; chamfering; thread and form grinding; tool and cutter grinding; offhand grinding; lapping and polishing (grinding with extremely fine grits to create ultrasmooth surfaces); honing; and disc grinding.