September 01, 2014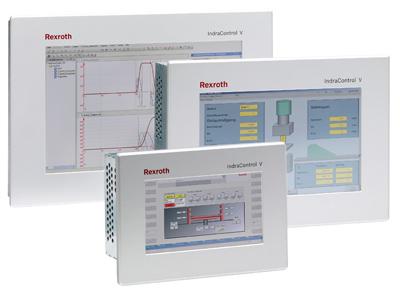 The compact IndraControl VR series of embedded terminals from Bosch Rexroth complement the company's existing IndraControl V portfolio of larger screen HMIs and the PC-based panels, including the IndraControl VEP, VDP, VSP, and VPP series. The VR HMI uses a modern 16:9 format and is available in 4", 7" and 9" sizes. The 7" and 9" panels also have a capacitive screen, multi-touch option. The multi-touch features provide the user familiarity of tablets and smart phones.
The IndraControl VR series of embedded terminals are a cost-saving alternative to the PC-based panels and utilize the Windows 7 Compact Embedded operating system. The ARM Cortex-A8 800 MHz processor provides excellent performance and reliability. According to the company, 512 MB of RAM, 256 MB of flash memory as well as an integrated SD card memory slot ensure plenty of space for a robust application. Rexroth's HMI programming software, WinStudio, can be used to develop applications for the VR controller, moving all Rexroth operator interfaces to the same programming development software.
Maximize connectivity with a standard on-board Ethernet 10/100 Mbit port and 2 USB interfaces. There are 100-plus drivers available to connect the VR HMI to the controller of your choice. Small installation depths of 54mm and IP65/20-protected displays make these HMIs very attractive to various industries.
Related Glossary Terms
flash


flash

Thin web or film of metal on a casting that occurs at die partings and around air vents and movable cores. This excess metal is due to necessary working and operating clearances in a die. Flash also is the excess material squeezed out of the cavity as a compression mold closes or as pressure is applied to the cavity.