March 08, 2023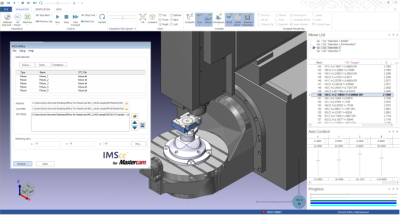 In-House Solutions and IMS Software have developed a partnership to bring IMSce for Mastercam to the Canadian manufacturing market. The software solution extends the Mastercam machine simulation with G-code parsing and verification for diverse machine tools and controllers.
The solution enables Mastercam users to simulate and verify G-code including controller variables, subprograms, expressions and canned cycles for a wide range of machine tools before the workpiece is mounted on the machine.
"We're pleased to have In-House as a strategic partner in bringing IMSce for Mastercam to the market" said Dan Wrenn, President and Co-Founder of IMS Software. "The breadth and depth of both their sales and engineering teams ensures the success of their customers and partners."
"With IMSce we can now offer our customer base a superior verification solution that further protects their CNC machine tool + Mastercam investment." said Jon House, Co-CEO of In- House Solutions. "Both the IMS team and their products are impressive, and we are excited to represent them in Canada."
Related Glossary Terms
computer numerical control ( CNC)


computer numerical control ( CNC)

Microprocessor-based controller dedicated to a machine tool that permits the creation or modification of parts. Programmed numerical control activates the machine's servos and spindle drives and controls the various machining operations. See DNC, direct numerical control; NC, numerical control.