October 14, 2022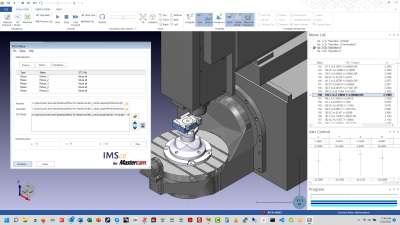 IMS Software, ModuleWorks and Mastercam have collaborated on the development of IMSce for Mastercam. The software solution extends the Mastercam machine simulation with G-code parsing and verification for diverse machine tools and controllers.
IMSce for Mastercam combines IMS G-code emulation with the ModuleWorks simulation and post processing technology to provide a G-code parsing solution that connects directly to Mastercam. The solution enables Mastercam users to simulate and verify G-code including controller variables, subprograms, expressions and canned cycles for a wide range of machine tools before the workpiece is mounted on the machine.
"There is big demand for G-code simulation and it's great to see how the technologies of different companies are being combined to create value-adding solutions for the industry," Julia Meyer-Hendricks, Head of Business Development - Digital Manufacturing at ModuleWorks.
"Integrated G-code simulation and verification is a major step forward in complex multi-axis machining, improving code quality and dramatically reducing overall programming time versus traditional standalone solutions" Dan Wrenn, President/Co-founder at IMS Software.
"Mastercam is proud to partner with IMS Software and ModuleWorks. We are excited to work together with these industry leaders to offer G-code simulation running inside Mastercam for a wide range of machine tools and controls. As a result, Mastercam users can leverage digital twin technology to simulate and validate their CAM programs, particularly for multiaxis applications, prior to running on their CNC machines," Stas Mylek, Partnership Program Manager at Mastercam.
Related Glossary Terms
computer numerical control ( CNC)


computer numerical control ( CNC)

Microprocessor-based controller dedicated to a machine tool that permits the creation or modification of parts. Programmed numerical control activates the machine's servos and spindle drives and controls the various machining operations. See DNC, direct numerical control; NC, numerical control.

computer-aided manufacturing ( CAM)


computer-aided manufacturing ( CAM)

Use of computers to control machining and manufacturing processes.