May 01,2015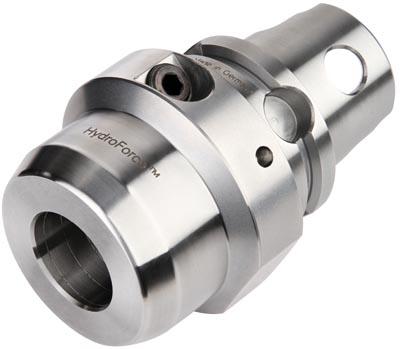 With among the highest levels of transmittable torque due to a more compact design, featuring a 40 percent thicker front-wall cross-section, the new HydroForce HT universal hydraulic chuck from Kennametal is a cost-effective chucking solution that simplifies inventory while maximizing tool life and machining results for milling, drilling, reaming, and other rotating applications, according to the company.
HydroForce HT provides the increased rigidity necessary for improved cutting parameters and better results. Clamping force is up to three times better than regular hydraulic chucks, and with improved vibration dampening, runout is threeµm at 2 times diameter overhang. Balance quality of G2.5 is achieved at speeds up to 25,000 rpm.
All this robust performance is available in a high-torque chuck requiring only two sizes for all rotating tooling tasks, according to Kennametal. Direct clamping is available for 20 and 32mm (0.75 and 1.5") diameters and reducer sleeves are applied for all other diameters.
When machining tough materials like titanium, cutting speeds are relatively low due to thermal effects on cutting tools. In response, machine-tool builders have improved stiffness and damping on spindles and machine structures to deliver abundant torque at low rotational speeds.
In these and other cases, the HydroForce HT universal chuck works directly with the Kennametal KM4X spindle connection to not only transmit higher levels of torque, but also provide maximum resistance to bending loads. In end-milling applications, where projection lengths are typically greater, the limiting factor is the spindle interface's bending capacity. For example, an indexable helical cutter with 250mm (9.84") projection from spindle face, 80mm (3.15") in diameter generates 4620 Nm (3407.5 ft. lbs.) of bending moment and less than 900 Nm (663.8 ft. lbs.) of torque. Often, bending moment boundaries are exceeded far before torque levels.
The combination of the KM4X system's high clamping force and interference level lead to a robust connection and extremely high stiffness and bending capacity for greatly improved performance in titanium machining. KM4X and HydroForc Ht work together to overcome the limitation on bending capacity present in other connections. Maximum available spindle power and torque are brought to bear every time in critical operations like milling of high-strength materials.