October 07, 2022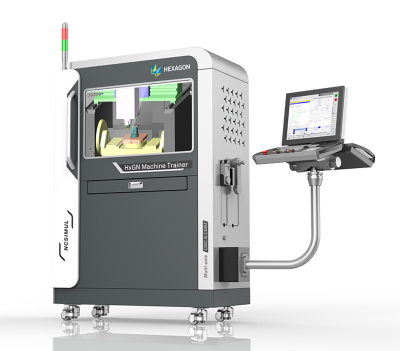 Hexagon's Manufacturing Intelligence division announced the rollout of HxGN Machine Trainer at the International Manufacturing Technology Show (IMTS) 2022. In the Controls & CAD-CAM Pavilion, Hexagon demonstrated the multi-axis CNC and CMM machine trainer simulator in Booth 133114. Manufacturers, educators and students can leverage the new operator-programmer trainer within a minimal physical footprint right on the factory floor or in the classroom. The innovative HxGN Machine Trainer presents realistic machine preparation scenarios and provides interchangeable CNC controls to cover various types of machine language mentoring. The flexible training system also hosts a wide selection of CMMs digital twins of different sizes and brands to simulate mechanical design. Technical and career enhancement instruction can now be delivered expeditiously for mentorships, internships, micro-credential or traditional education programs in the manufacturing job market.

HxGN Machine Trainer is based on the new generation of NCSIMUL and I++simulation software, combining software and hardware to create a solution that is practical and easy to learn. Based on modeled machine kinematic Digital Twins, the HxGN Machine Trainer presents numerous learning opportunities using realistic simulations for 3-to-5 axis milling, mill-turn and CMM operation. Specific situations such as collisions or machine restarts can be emulated to mimic operational or emergency procedures. HxGN Machine Trainer not only meets the technical requirements for education and manufacturing environments, it is a safe tool to learn and validate new and existing procedures for production and inspection. Using simulated training, manufacturers can safeguard their equipment investments, while educational institutions can forgo costly equipment investments and the associated large footprint for industrial equipment.
This advancement is a superlative example of Hexagon's unique capability to integrate its own technologies – machine hardware, production and metrology software – into an innovative smart manufacturing application to expedite user learning. HxGN Machine Trainer includes machining instruction documents and G-code machining programs transfer (DNC) in order to define tool and set-up offsets directly on the control panel and prepare for machining. After virtually machining various practical work schemes, the student can control the part using a metrology option. Both machining and inspection reports are automatically generated, as well as OEE rates for analysis as a part of the continuous improvement process. The training system can utilize existing measurement routines and facilitate the development of new programs in learning mode or offline mode with the CAD model.